Propel X Wing Drone Review: This Star Wars X Wing Is The Drone You're Looking For
This article will review the Star Wars Propel X Wing Drone. Honestly it's one of the coolest looking quadcopters ever made. This little drone is a highly detailed, almost mini replica of a T-65 X wing, R2 unit and all.
It's part of a line of hand painted and individually numbered Star Wars battle drones by Propel. These quadcopters actually let you battle each other, like a live video game!
The T-65 X wing drone comes in an awesome collector's edition box too, with built in display and back lighting. Keep reading to check out what we liked and what we didn't like about it…
Propel X Wing Drone: Good and Bad
Pros
Best un-boxing experience ever!
Extremely detailed, it looks amazing
Quick charge time
Battle capability
Training mode
Collector's packaging and included display
Cons
Hard to fly at first, takes a bit to get used to
Brushed motors will eventually need to be replaced
No camera or positioning system
Doesn't fit easily in the display case with propellers attached
Main Features of the Propel T-65 X Wing Drone
Collector's Edition Box
Unboxing the Propel X wing drone for the first time was truly an awesome experience but there's no spoiler alert here. You will just have to wait and see for yourself. (or just look it up on YouTube)
The box itself has a built in display for the drone, that lights up and showcases it nicely. The rest of the contents of the box are intricately packed and all fit under the display. You can tell that a lot of thought was put into the design of the packaging. The outside of the box also looks cool and well worthy of displaying on a shelf somewhere.
Amazing…Replica-Like Detail
The detail on this Star Wars X wing drone really is amazing. Even if it was never flown, it looks ultra cool just sitting there.
Check out this detail.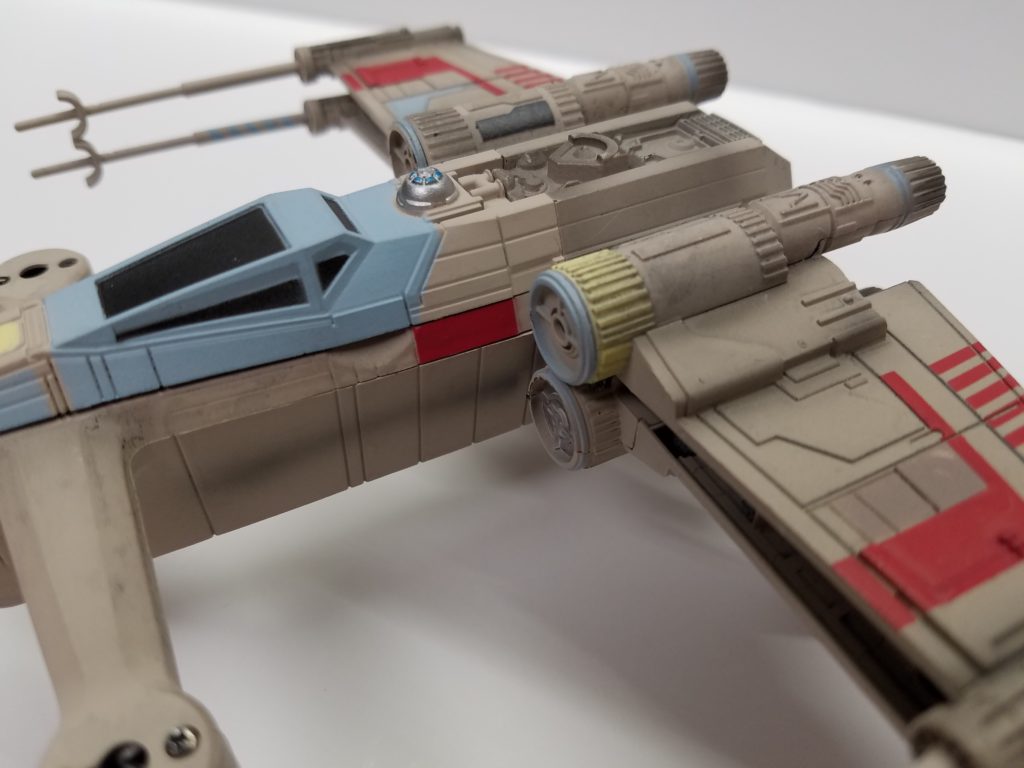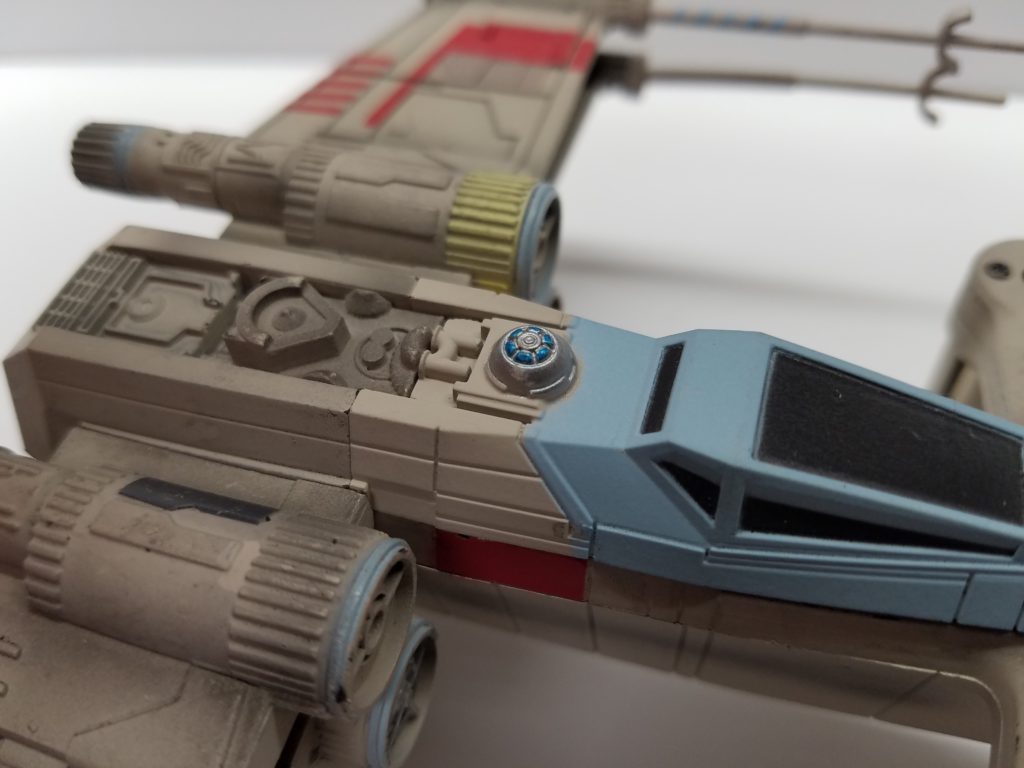 The X wing drone really looks like a mini version of the real thing. Even the wear and tear is detailed on it, it looks like it's been through a few Death Star trenches already. Each one is hand painted and individually numbered too, with a unique serial number.
Flight Soundtrack
The controller for the X wing drone has a bunch of audio tracks from the movies built into it and will play different tracks while you're powered up and flying. How many other drones do you know of that play their own soundtrack?
It's pretty cool and adds to the whole Star Wars experience. Tracks can be selected, shuffled and volume can be adjusted if it gets to be annoying. There is also a headphone jack, if you prefer to listen with those.
Battle Mode!
What good are Star Wars drones if you can't battle with them…right? (honestly they're pretty good just on display) The X wing and other Propel Star Wars battle drones can engage in battles of up to 12 different drones at a time.
There are even 2 types of "weapons" available, either lasers or IR beams. When a hit from another drone is registered, your controller will vibrate. The quad will auto-land after 3 hits, until a new game is started.
Reverse Propulsion
The Propel X Wing drone utilizes an inverted propeller design when compared to most other RC quadcopters and multirotors. This means that the propellers are mounted under the drone, instead of on top.
This allows for no obstructions under the props that could impede the flow of air and makes for better aerodynamics. It also REALLY preserves the look of the X wing. If the props were mounted on top, they really would have changed the whole look of this drone.
Flying The Propel X Wing Drone
Push the takeoff button on the controller and you'll hear a sound byte as the engines rev up and the drone takes off and hovers. But flying this X-wing drone was a bit harder than expected. There is no positioning system at all, except for an altitude control feature so it can be tricky to keep it in the same spot if you are still learning how to fly a drone.
This is definitely not a dealbreaker, at least for me. It's cool enough just to see it in the air at all!
The quad does tend to drift a little, and there is no trim available for the controls. It will take some more control input than some other drones to keep it where you want it. But once you get the hang of it it's not really that bad. Just be sure to use the included prop guard.
Wind Is The Enemy
Flying this Star Wars X wing drone outside is close to impossible in any sort of wind. Small gusts easily blow this quad around. Propel does recommend a wide open space of at least 100 feet, which would be hard to find indoors. If you do fly it outside, just make sure it's a really CALM day and your flights will go much better.
Worried about crashing this X wing quadcopter? It does come with a training mode, or what Propel calls "T-Mode". This mode basically creates a floor and ceiling to safely fly within. In practice though, it doesn't always work as well as you'd expect.
This controller also comes with 3 different speed settings, along with the T-mode. So, you can adjust the sensitivity and make the control more responsive as you get more confident with it.
If after a few crashes you notice the control of the drone getting a little wacky and it's drifting more than normal, you can use the self calibration feature. To do this, just set the quad down in a level surface and press the calibration button on the controller.
The X wing drone comes with 2 batteries, which is nice since the flight time isn't very long. Observed flight time was around six minutes or so, when flying this quad. It's not that far off from the advertised flight time of 6-8 minutes.
The supplied battery charger will charge the battery to 90% in about 30 min. Propel says to always start out with a minimum of 90 % charge before flying. Full charge takes about 15 minutes more.
Propel X Wing Drone Final Verdict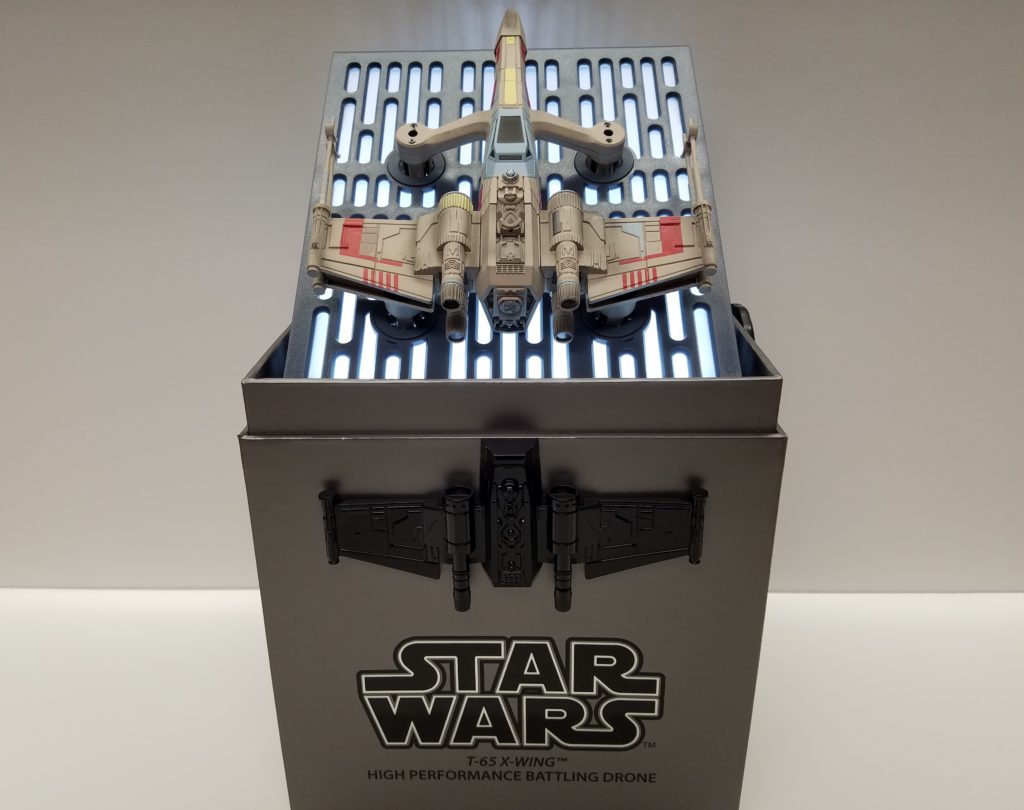 All in all, we think the Propel T-65 X Wing drone is a good value and a good buy. Even though it's a little harder to control than other drones with positioning sensors and software, it's still really fun to fly. Who doesn't want to pilot their own X wing around?
If you're not that much of a collector or Stars Wars fan, and you're looking for a small quad that is super easy to fly that maybe this Star Wars drone is not for you. But if you're a fan or collector, you probably want to check this one out for sure.
For some people it would be worth it to just have it on display, most if not all, of the time…rarely or never actually flying it. One thing that we didn't like was that the X wing doesn't fit in the display properly with the propellers attached.
You can still get the case lid down most of the way, but it's really snug and rubs on the sides a bit. To really fit it, you have to remove the props. Kind of a pain.
What's In The Box
T-65 X Wing drone
Controller
Prod Guard
2 batteries
1 set of spare props
Prop removal tool
Wall charger
USB charger and cable (same cable for wall charger and display)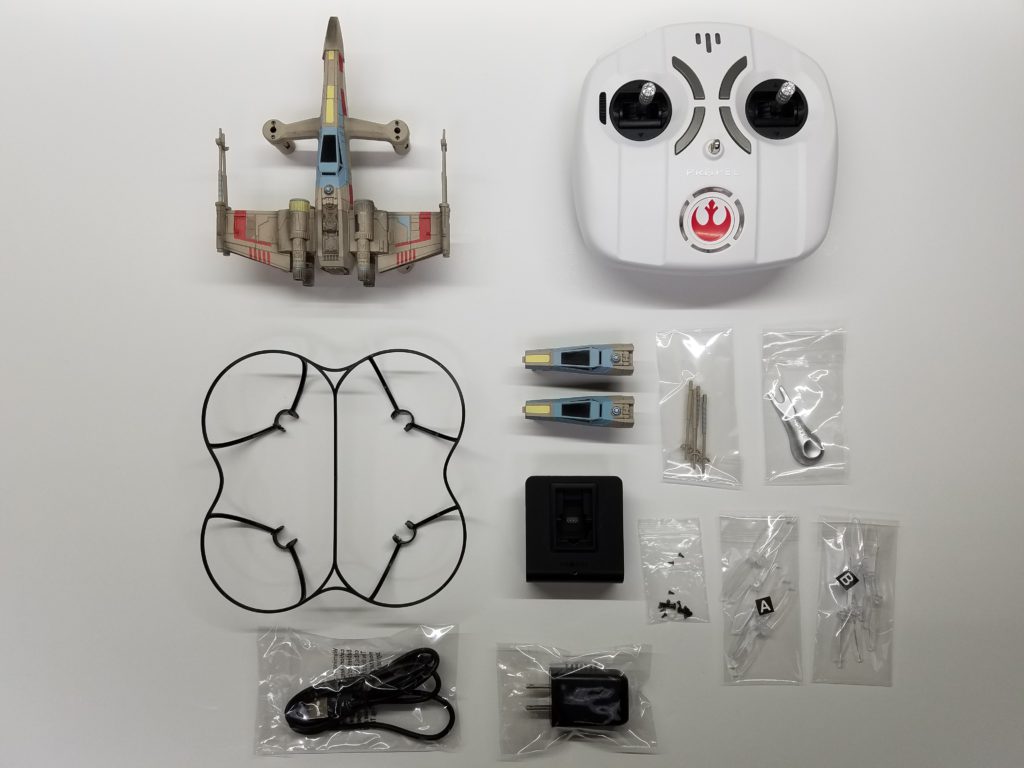 Propel X Wing Drone Specs
 
Weight

103 grams (with guard)

Range

200-300 ft

Flight Time

6-8 min

Battery

800 mAh 1S LiPo

Camera Resolution

N/A

Positioning

None, baro sensor for alt hold