New FAA Drone Rules Proposed: See What Could Be Changing Soon, and What Already Has
Recently there have been some new FAA drone rules proposed, covering the operation of RC drones. The FAA refers to it as "small unmanned aircraft systems, or UAS". Most changes to the FAA's drone rules are for operations under the part 107 rule. But one of them is for recreational flyers as well, and the rule has already gone into effect.
This are the latest proposed rule changes following passage of the 2018 FAA Reauthorization Bill, which outlined some major changes and began to pave the way for the adoption of the commercial drone industry.
Please note: this article does not give any sort of legal advice. It is purely for educational purposes. I am not a lawyer, so please consult one for any legal questions or clarifications regarding FAA regulations.
New FAA Drone Rule Published Last Month
Last month the FAA published a new rule, via a federal register filing, that changes the way you have to display your drone ID number. Drone owners now have to display their registration number on the outside of their aircraft.
This rule went into effect on February 25, 2019 and is applicable to ALL registered drones. (both recreational & commercial) So, you need to comply to it before your next flight if you want to be legal.
When the FAA originally established the drone registration in 2015, it wasn't necessary to display the number externally. The number could be placed inside a battery compartment, or something similar. It just had to be permanently fixed, and no tools should be needed to access it.
Now the drone registration number has to be visible on the outside of the aircraft and permanent.
The FAA claims it is for law enforcement and security personnel concerns. The rule is so they can more easily and quickly identify the owner of a drone, if needed.
Specifically, a concern with the risk that a concealed explosive device could pose to first responders. Approaching the drone and having to open the battery cover to look for the registration number would be too dangerous.
The FAA must think someone who is clearly breaking many laws by equipping their drone with explosives will take the time to register their drone.
And include that registration number on the inside of the drone they're planning to blow up.
It doesn't really make a lot of sense, but OK.
How Should You Display Your Drone ID?
The new drone marking rule doesn't change any of the original acceptable ways to mark your drone from the outside.
It also doesn't specify any certain surface where the registration number should be placed. It only says that the number must be seen with a visual inspection of the drone.
The FAA has an infographic, you can check out here. It suggests either engraving, using a permanent label or permanent marker to display your registration number but any method that can be easily read would work.
New FAA Drone Rules Proposed for Flying Under Part 107
FAA's Part 107 drone regulation went into effect on June 28, 2016, about 7 months after the famous and challenged drone registration rule.
It allowed people to acquire a remote pilot license and fly your drone for business. Part 107 applied to drones weighing less than 55 pounds and limited recreational usage not covered under part 107.
But just recently, the FAA has proposed some changes to its original rule. They say they have gained experience since part 107 first went into effect. They also had received thousands of waiver requests for exemptions to the current rules.
Most of the waiver requests were for exemptions flying at night and over people…the 2 main areas where the FAA is proposing elimination of a waiver
You can view the details of the rule proposal here. There is a comment period open until April 15, 2019.
Proposed Rule Change: Drone Operations at Night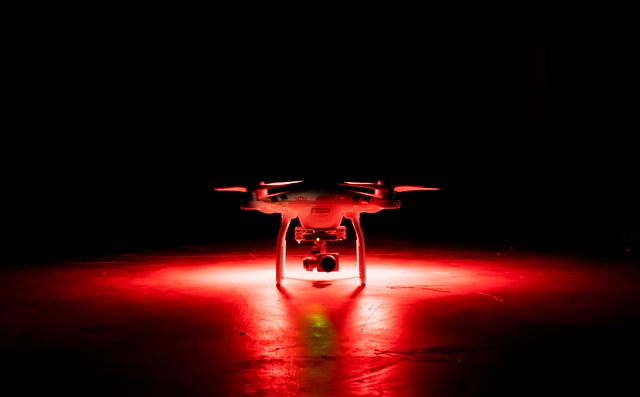 The part 107 rule did not allow drone operations at night, but the FAA is now proposing to allow it. According to the FAA, they have not received any reports of accidents from drone flights that had requested night waivers.
Requests to operate at night are easily the most common type of waivers.
The new proposed rule will allow flights at night, under 2 main conditions:
The operator of the drone would be required to complete knowledge training that included material covering flight operations at night
The drone needs an anti-collision light, illuminated and visible for at least 3 statute miles
The proposal also makes the 2nd condition, above, subject to waiver exemption.
Proposed Rule Change: Drone Operations Over People
The original part 107 rule prohibited flights over people that: were not part of the operation and that were not under a covered structure or inside a stationary vehicle.
This proposed change allows flights over people under certain conditions. The rule has 3 categories:
Category 1
Category 1 is simple and straightforward due to the low risk involved. It says that if your drone weighs less than 0.55 pounds, you can fly it over people.
The FAA sees these small, unregistered drones as very low risk to injury. So they allow them without any additional restrictions.
If you're looking for a great drone in this category, check out the Ryze Tello drone.
Category 2
Category 2 goes a little further with its requirements but puts most of the burden on the manufacturer. The requirements have 3 parts.
First, the drone's design should ensure the impact energy with a person doesn't exceed 11 lbs-ft.
Second, there can't be any exposed parts that could lacerate skin (enclosed, or ducted propellers most likely needed for this).
Third, the drone model cannot have any FAA identified safety defects.
The manufacturer would be responsible for proving compliance and indicating which drones would be certified for Category 2 flights over people.
Category 3
Category 3 has a higher injury threshold than Category 2. Limiting the operation is what limits the risk of injury in this category. These requirements also have 3 parts:
First, the design of the drone must be that the impact energy with a person cannot exceed 25 lb-ft.
Second, like Category 2, there can be no exposed parts that could lacerate skin.
And third, the drones in this category also cannot have any FAA identified safety defect that causes more than a low chance of causing a fatality when flying over people.
There are also operational limitations as well. Like not over open air assemblies of people, etc…since there's a higher risk of injury with the higher impact energy allowed.
Other Proposed Drone Rule Changes
In addition to allowing drone flights at night and over people, check out these other proposed FAA drone rule changes.
The new rules would require someone operating a drone under a remote pilot certificate to present it as well as their ID, to any Federal, State or Local law enforcement officer when requested.
Other changes proposed deal with the knowledge testing requirements under part 107, specifically requiring training every 24 months, instead of re-certification via knowledge test.
The FAA says these changes will reduce the knowledge testing burden on current remote pilot certificate holders.
As drones become more mainstream and become adopted by more industries, it goes without saying that the FAA, and other countries governing bodies, will have to make adjustments to their regulations to keep up.
There have been a lot of requests for increased "operational flexibility" by those flying under part 107. Per the FAA, these new proposals are part of their next steps to fully integrate drones into the national airspace system.