Frozen Yogurt Drone Delivery. Yes, It's A Thing Now
Orange Leaf Frozen Yogurt company achieved the first frozen

yogurt drone delivery, earlier this week. Dubbed "Project Flying Orange Unicorn", the delivery made at Hope College in Holland, Michigan marks the world's first frozen yogurt drone delivery.  Orange Leaf Frozen Yogurt, a new style self-service dessert franchise, announced the success of the delivery earlier this week.
What's That in the Sky? It's Flying Frozen Yogurt!
Working within the newly released FAA guidelines for commercial drone usage, the "pilot" program is experimenting with product drone deliveries.  Orange Leaf Holland will now begin offering the frozen yogurt deliveries by appointment only.  The program got it's start based on the excitement & positive feedback from students at Hope College.  Human pilots guide the drones, making coordinated deliveries from Holland's Orange Leaf store – which is about 6 blocks from campus.  Check out the video below for footage of the drone delivery.
Jeremy Latchaw led Project Flying Orange Unicorn, he is the franchise owner of the Holland & Grandville Orange Leaf locations and also president of the Mishigami Group drone dealership.  The Mishigami Group is also working with some of the largest police and fire departments in Michigan, to develop their unmanned aerial vehicle programs.  The Mishigami Group will continue to help out Orange Leaf with more assessment of the program.  That assessment also includes the possibility of expanding into new markets in the future.
Orange Leaf is Investing in the Future of Drone Deliveries
Orange Leaf Holland specifically developed a modified to-go delivery box and frozen packing materials, just for this exercise.  The original box, the Pop-Up Party Box to-go has become a recent success for Orange Leaf.  The box is popular for events held at schools, kids' at home birthday parties, office parties, and more.
Drone deliveries were once reserved for sci-fi movies. That is a thing of the past as restaurant drone delivery testing  is gaining traction and getting more popular.  Orange Leaf just joined other companies such as Chipotle & Domino's Pizza who have both experimented with drone delivery earlier this year.
Geoff Goodman, president of Orange Leaf Frozen Yogurt had this to say about the successful delivery.  "We continue to lead the innovation taking place in the frozen yogurt category, and we continue to look for ways to grow and foster brand loyalty by reaching our customers in new ways.  Millennials are an important target audience for Orange Leaf and because we know they are interested in emerging technologies that also offer convenience, we selected a college campus for out first-ever drone delivery test.  The test exceeded expectations and we look forward to further exploring drone deliveries and other unexpected ways to get our froyo into the hands of fans across the country."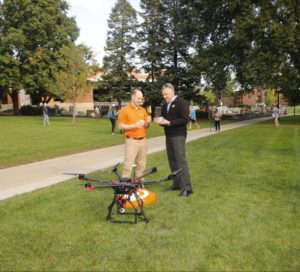 Orange Leaf wants to stand out from the rest of the industry and show that it is anything but ordinary.  This drone delivery at Hope College is the first of potentially more deliveries of Orange Leaf's treats in the future.  They will most definitely be looking to expand this drone delivery program to other markets.
What did you think of this latest drone delivery test? Please feel free to leave a comment below!