Ryze Tello Drone Review: Best Camera Drone Under 100 Dollars
Welcome to our Ryze Tello drone review! The Ryze Tello drone is an amazing little quadcopter. It's probably the best camera drone under 100 dollars. In our review of the Tello, we'll go over the best features, specs and talk about why this little guy is one of our new favorites.
The Tello drone is manufactured by Ryze robotics, but it's powered by Intel, with a little help from DJI too. Featuring a 14 core central processor and a Vision positioning system, the Tello is no ordinary mini camera drone.
It boasts a long battery life (for such a small drone), a 720p camera with FPV, autonomous features and did I mention that the Tello is also open source? Two different methods are available. One allows beginners, like kids and teens, to learn the basics of programming. The other is an SDK for more experienced users.
Ryze Tello Drone Quick Overview…Highs and Lows
This post may contain affiliate links.  See more details here.
The Good
Amazing flight time from such a small battery
Excellent position hold/hover ability
First person view & VR headset compatibility
Great value for the price
Portability
Easy to Fly
Good picture and video quality
Open source/programming capability
The Not So Good
No mechanical camera stabilization
Vision system is limited to low altitude
Does not come with a controller, must purchase one separately
Video can be a little laggy over Wi-Fi, since the same connection is used for the control and video feeds
---
You can see the good features of the Tello quadcopter easily outweigh the bad.  This little drone is definitely a good buy.  It's well worth it, should you get one.
If you're still not convinced, read more about the features of the Tello below.
Click Here to See the Tello at Amazon.com
Ryze Tello Drone Main Features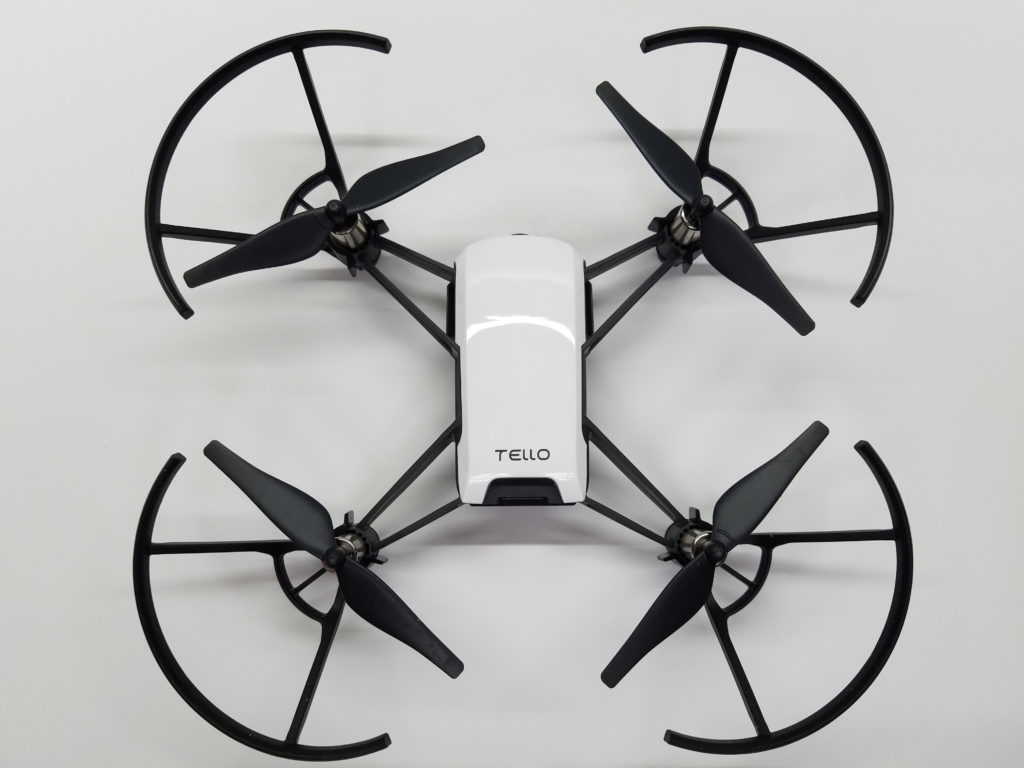 Tello Vision Positioning System
Developed with the help of DJI, the system uses a camera and 3D infrared sensor mounted on the Tello's belly.  The Vision positioning system on the Tello is really what makes this little drone so awesome.
The Vision system is basically a combination of optical flow positioning and infrared sensing.  With these sensors, the Tello is able to accurately hold its position. It allows the flight control processor to "see" what's underneath the drone, and adjust its position in order to keep the drone in the same spot.
And it works REALLY well too!  I've tried it both indoors and out and was surprised at how well the Tello kept up even with a light breeze.  The system just doesn't work so well in low light conditions, or above an altitude of about 30 feet – even if it's really bright.
The Vision system isn't only used for precise hovering.  It also enables some of the autonomous fight modes too. More info on those modes below…
 Auto Take-Off and Landing
Taking off and landing with the Tello is a breeze. With a push of a button, and a swipe on the screen, the Tello will spool up its motors, take off and enter a stable hover.
Landing is super simple too. Since Tello can "see" the ground, it lands confidently. There is even a setting where you can land the Tello drone in your hand.
Tello Drone Camera Features
Tello's camera provides 720p streaming video to your mobile device. It also takes 5 MP still photos. All of the media files are stored on your device, so there's no downloading needed after your flight.
One downside to this is that it can really fill up your device's storage quickly. I actually wish there was some sort of on board memory, or at least a micro SD card slot where the files could be stored.
The camera is fixed to the body of the drone. So no gimbal stabilization like the drones listed here. You see what the nose of the drone sees. The Tello does have electronic image stabilization, which actually works pretty well.
The streaming video feed can be used for FPV, and the Tello is compatible with some VR headsets. However, I've found the video to be a little laggy at times. Most likely since the same wifi connection is used for both the control and video transmissions.
True FPV-only flight with a headset may be a little difficult, due to the lag.
Tello Drone's Flight Modes
The Ryze Tello drone comes with 6 pseudo-autonomous flight modes, most of them are actually useful. I'll briefly go over each of them to give you an idea of what they do.
Throw & Go
This flight mode is exactly as it sounds, Set it up from the app and when the props start spinning slowly, simply toss the Tello into the air. The drone will self-detect the launch, automatically stabilize and hover on the spot.
360 Mode
In 360 mode, Tello will hover in place and rotate in a 360 degree circle while recording video. This is a cool feature to automatically grab a 360 panoramic video of your surroundings.
8D Flips
In this mode, Ryze says that you can have the Tello do flip in 8 different directions – just by swiping on the screen. I really have only noticed 4 directions, not sure where the other 4 are…
In any case, performing the flips is really easy. Once you select the flight mode, a box comes up on the app's screen. Simply swipe in any direction in the box, and Tello will do a flip in that direction.
Bounce Mode
I'm still trying to figure out the purpose of this mode, other than showing off the Tello's ground sensing ability. In this mode, the drone will automatically flight up and down within 1.5 & just over 3 feet of a flat surface.
It works well, but like I said, not really sure what the purpose of it is.
Up & Away
Up and away is sort of like a selfie mode. The Tello will fly upwards and backwards a short distance, while recording a short video. It's useful for a quick video of a large group, or to showcase a larger object.
Circle Mode
Circle mode automatically flies the Tello in a circle, around an imaginary center point. The Tello will also record a short video of the flight.
Our Ryze Tello Drone Review…Flight Feedback
Flying the Tello drone is a pleasant experience. It's really easy and fluid. The Vision system does a great job of holding the drone in place when you take your hands off the controls.
I've found it works pretty good, even in a decent breeze. Anything stronger than that though, and the Tello struggles. It's easily blown off position with a small gust.
The Tello is Controller Compatible
You can control the Tello with either a smartphone or tablet, or you can opt for a controller. There are a few compatible ones available on Amazon, or you can get a bundle that already comes with one.
The controller almost resembles a PS3 controller and links to the Tello via bluetooth. You can expect the range to be slightly less when using the controller instead of a mobile device.
I have only flown the Tello with a smartphone and tablet so far. But, I'll be sure to update this post after checking it out with the controller.
Crash Detection Comes in Handy
Another great feature of the Tello drone is its crash detection. When detected the Tello will shut down its motors, to prevent any further damage not caused by the crash itself.
I flew it into my neighbor's hedge a few times and the props stopped immediately. There's nothing worse than ruining a set of props with a small crash…all because your props continued to spin at high speeds after they contacted some obstacle.
---
All-in-all, the Tello is a great little drone…totally worth it in my opinion. As with the controller, I haven't dipped into the programming capability. I'll be sure to have more on that once I've had some experience with it. It looks like it could be a cool bonus feature.
What's In the Box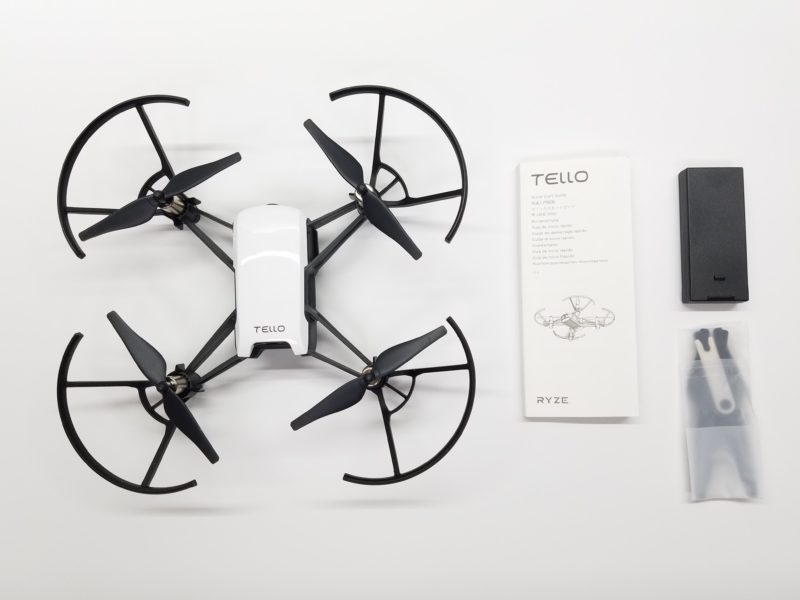 Battery
Spare props
Prop removal tool
Instruction booklet
Ryze Tello Drone Specs
 
Weight

80 grams

Range

100 meters

Flight Time

13 min

Battery

1100 mAh 1S LiPo

Camera Resolution

5 MP photos/720p video 30 fps

Positioning

Optical flow + infrared