10 of the Best Drones for Sale With a Camera and GPS
Check out our selection of the 10 best drones for sale with a camera and GPS, available on the market today. This list covers a wide variety of GPS camera drones from enthusiast to "prosumer" to professional.
Whether you're looking for something inexpensive, or are ready to shell out some serious cash, there's a drone on this list for you.
If you're looking for something on the cheaper side, check out our review of the best camera drone under 100 dollars.
All of the drones listed here come with a minimum 2.7K camera, utilize gimbal stabilization and support autonomous flight modes via GPS positioning. They also all come pretty highly reviewed on amazon, with no ratings lower than a 3.5 out of 5.
This list of GPS camera drones is ordered from least expensive model, to most expensive.  So if you're looking for something a little more advanced you'll want to concentrate more on the drones towards the end of this post.
Every single one of these drones offers some unique features, read more and check them out below!
TheRCDroneHub.com may receive a commission for any purchases made through this post.  See more details here.
Name

Image

Camera




Resolution

Range

Flight




Time

Positioning

Avoidance

Price

 
Upair One

2.7K

800 m

18 min

GPS only

No

$

Check It Out
Ehang
GhostDrone 2.0
 

4K

1 km

25 min

GPS only

No

$

Check It Out
Yuneec Q500+
 

4K

800 m

25 min

GPS only

No

$

Check It Out
Autel Robotics X-Star
Premium
 

4K

1.9 km

25 min

GPS,

GLONASS,




Optical

No

$$

Check It Out
DJI Phantom 3 Pro
 

4K

5 km

23 min

GPS, GLONASS,




Optical, Ultrasonic

No

$$

Check It Out
DJI Mavic Pro
 

4K

7 km

27 min

GPS, GLONASS,




Optical, Ultrasonic

Yes

$$$

Check It Out
DJI Phantom 4 Pro
 

4K

6.9 km

28 min

GPS, GLONASS,


Optical, Ultrasonic,


Infrared

Yes

$$$

Check It Out
Yuneec Typhoon H
Pro
 

4K

1.6 km

25 min

GPS, Optical,




Ultrasonic




Intel RealSense

Yes

$$$

Check It Out
DJI Inspire 1 Pro

4K

5 km

18 min

GPS, GLONASS,




Optical, Ultrasonic

No

$$$$

Check It Out
DJI Inspire 2
 

5.2K

6.9 km

27 min

GPS, GLONASS,


Optical, Ultrasonic,


Infrared

Yes

$$$$$

Check It Out
Camera and GPS Drone Functions Explained
The camera is one of the most important parts to an aerial video or photo setup. And the GPS system on the drone is what gets the camera where you want it to be. Some of the important features of a drone's camera as well as its GPS are explained below.
What Makes a Good Drone Camera
If you're going to buy a drone with a camera, you'll want to know what features to look for. Not all drone cameras are created equal.
Look for a camera with a resolution of at least 1080p at 60 frames per second or better. The higher the frames per second, the smoother your video will be. A higher frame rate also makes for a smoother slow motion segment as well. The GPS drones on this list all have a minimum camera resolution of 2.7K, which is a high quality resolution.
Cameras that have a mechanical shutter are superior than ones without. The mechanical shutter helps to eliminate something called rolling shutter distortion. This can occur when recording while moving or recording a fast-moving object.  Exactly what you'll be doing while flying your drone.
You'll also want to make sure the camera is stabilized, otherwise it can make for some pretty jumpy video – almost unwatchable. You want to look for a drone that uses a gimbal to stabilize its camera.
Two-dimensional stabilization is OK, but your videos will still show some side to side movement when you yaw (or rotate) the drone quickly.  3D stabilization is the way to go, for sure. Your videos will be butter smooth.
Another camera feature on some of the more advanced GPS drones is the ability to identify, recognize and track objects.  These models can adjust the gimbal in order to keep the camera focused on a target for effortless image framing.
Why Does a Drone Need GPS, What Does It Do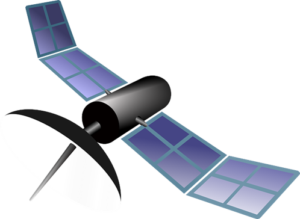 Equipping a drone with GPS enables many different features. At the most basic level, it lets the drone know where its position is on the Earth. This allows things like autopilot, failsafe modes and greater hovering precision.
Autopilot
Most, if not all, drones with GPS have some sort of autonomous flight capability. Some examples are waypoint flight, follow mode and orbit mode. Waypoint flight flies a pre-programmed flight path or flies to a spot chosen on a phone or tablet. Follow and orbit will track an object based on its moving position, either by following or flying circles around the object as it moves.
Failsafe
Things can go wrong. And when they do, it's better the drone takes some action to correct the situation instead of falling out of the air. That's where fail safes come in.
When batteries get low, or a controller signal is lost, drones with GPS can "return to home". GPS enables the drone to remember the coordinates of its launch position. When a problem occurs, the drone can fly safely back to that launch position, and land automatically.
Geofences can also be set up, to confine the drone to a specific geographic location and altitude. Without GPS, these features would not be possible on a drone.
Precision
When a drone has a GPS sensor, the outdoor positioning precision is greatly increased. Position hold modes require a good GPS signal to maintain a decent hover when you let go of the sticks. Some drones can even withstand winds up to 20-30 mph!
What the Heck is GLONASS
For some of the drones in this guide, you might notice they use both GPS & something called GLONASS for positioning. We'll explain what GLONASS is and why you might want it along with GPS on your drone.
While GPS was developed and used by the United States, GLONASS was developed by the Russian government. It's basically Russia's version of GPS. There almost exactly the same, only different...
GPS has a higher average accuracy but GLONASS has better performance at higher latitudes. This is due to the different positioning of the GLONASS satellites. Basically, you'll have the best of both worlds with both systems on your drone.  And if you live in the more northern or southern parts of the world, you want a drone with GLONASS positioning for sure.
Camera and GPS Working Together
Drones with a camera and GPS are going to perform better when taking aerial video and photo shots.  GPS autopilot will allow you to concentrate on the camera's gimbal position, angle, etc… while the drone flies itself.
A good camera and GPS module is essential for 3D drone mapping of terrain and drone site surveying. High quality images and precise location is a must when performing these tasks.
It's also important when using a drone for agriculture & crop monitoring. GPS enables pre-determined flight paths such as grid patterns, that can be used for autonomous data collection. The drone's camera can take high resolution images that are post processed to provide useful information.
Bonus Feature – Drone Collision Avoidance
Some higher end drones, like in the 2nd half of the list below, employ avoidance technologies. These features prevent the drone from flying into an object while in one of the various auto GPS modes.
Avoidance systems are made up of an array of sensors and the ability to make a flight path decision. These drones use different types of sensors to detect obstacles such as:
Vision, which uses precise cameras for positioning, sonar or ultrasonic sensors & infrared sensors.
There are 2 main levels of avoidance in our list of GPS camera drones below: simple sense and avoid and environment mapping. While sense and avoid will simply avoid crashing into stationary objects, a drone that maps its surroundings is a more advanced. These drones can choose the best path through an array of obstacles, while maintaining its flight mission. Should I fly through it, around it, or above it?
UPair One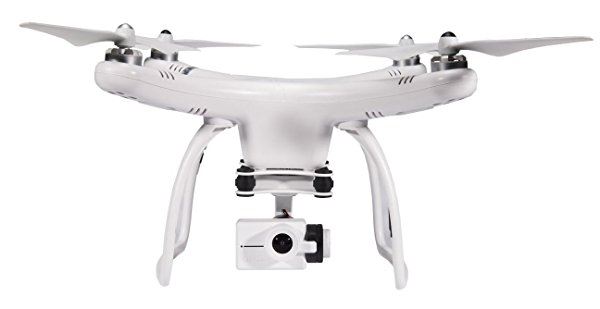 The Upair One quadcopter is a very inexpensive alternative to the DJI Phantom 3.  It has a very sleek design and a slightly curved frame, a subtle touch that gives it a unique look.
One shoots 2.7K video, stabilized with a 2D (2 axis stabilization) gimbal.  The 2.7K option makes this drone really affordable, given its features.  If you prefer 4K, expect to pay a little over 15% more.
The One drone comes with a 7" LCD screen for a live video feed of the camera, which is a nice bonus.  The feed utilizes a dedicated 5.8G system, for transmission so it won't interfere with your control signal.
Expect about 18 minutes of flight time out the 5400 mAh LiPo battery, range is 800 meters.  The UPair one has multiple flight modes like GPS position hold, altitude hold, RTH (return to home) and headless mode.
Headless mode is a cool feature that lock the direction of the drone regardless of its orientation.  Push the stick away from you and the drone moves away from you.  Pull it back towards you to have the drone come back to you.  It doesn't matter which way the 'front' of the quadcopter is facing, it will always move in the same relative direction - relative to you.
The One is better suited for outdoor flight, since the only positioning method is GPS.  There are no other optical or sonar positioning sensors.
Full tech support is offered from the manufacturer and multiple reviews on Amazon mentioned the customer service was very helpful.
Go back to table
Ehang GhostDrone 2.0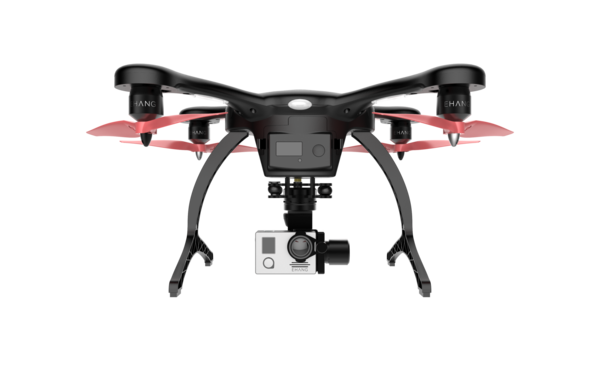 Ehang's GhostDrone has an inverted motor design that gives it a different look.  The design also helps keep the quadcopter's arms out of the propeller thrust, so move of it is used for lift.  It's also offered with a pretty amazing warranty.
Ehang is including a 1 year 'no fault' accident protection replacement warranty.
Yes, that's right.
They will repair or replace your GhostDrone if you crash and break it:
Up to 3 times in the first year!
Ehang will even cover shipping both ways.  It's a beginner drone pilots dream!  This is probably the absolute best warranty coverage in the industry.
Now, back to the design.  The motors and propellers on the GhostDrone are actually mounted below the quadcopter's arms.  As a result of this small design change, the thrust from the props is more efficient, which squeezes a little more battery life out of the GhostDrone.  Since the downward flow doesn't have to be "pushed" over the drone's arms, that extra energy can lift the quad instead.
The GhostDrone is equipped with a 4K camera and a 3D gimbal.  Flight time is 25 minutes from the 4500 mAh LiPo, with a range of 1 km.  GhostDrones's top speed is 25 mph in GPS mode and 43 mph while in manual mode.
An Android or iOS device controls the GhostDrone since it doesn't come with a controller/transmitter.  Using a 'smart device' to control the drone allows incorporation of the device's sensors in a control mode Ehang calls Avatar.
Avatar Mode
This mode translates the orientation of your smart phone (or tablet) into quadcopter movement, which looks cool but may be a little harder in practice.
Tilt your phone forward to move the drone forward, backward to move it backward and to the sides to move the drone from side to side.  The GhostDrone actually mimics the pitch and roll of your device.  You can adjust altitude and yaw within the app.
Other flight modes include a waypoint mode, touch to go, and return to home.
With a really easy setup, the GhostDrone is quickly un-boxed and flight ready in minutes.  It comes with the LiPo charged and ready to go, so you can get in the air right away.
Go back to table
Yuneec Q500+ 4K Typhoon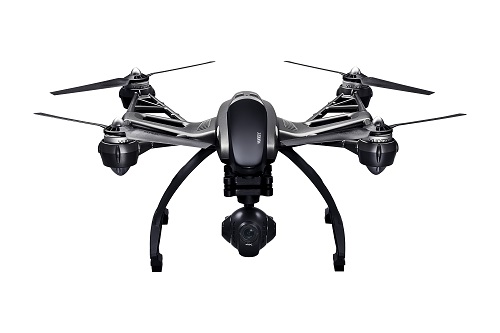 The Yuneec Typhoon 4K Q500+ is a capable camera drone that is literally ready to fly out of the box in 2 minutes.  The Typhoon 4K also comes with a really cool bonus feature - its gimbal and camera are detachable.
Some improvements on the Q500+ model, over the regular Q500 include an upgraded 4K camera with a distortion free lens (no wide angle fish eye effect), a larger 5.5"Android touchscreen, rather than the 4.5" screen and a metal carrying case.  The display provides real time video transmission in addition to flight telemetry data.
The Yuneec Q500+ comes with Yuneec's Steadygrip device, which is a handheld mount for the drone's camera and 3D gimbal system.  This is a huge bonus as some of the handheld gimbals out there approach the price of the Q500+ drone itself.
The Typhoon 4K's GPS position system allows for 3 different main flight modes: smart, angle and home.
Smart mode includes both a follow me and watch me mode, which will keep the drone's camera pointed at you regardless of the flight orientation and direction.
Angle mode is basically normal flight, but still using GPS for position hold when the sticks are released.  In home mode, the quadcopter automatically returns to you and lands.
Flight time on the Q500+ is 25 minutes, the battery capacity is 5400 mAh.
Oh, and there's one more thing, it ships with 2 batteries...nice!
The Q500+ 4K Typhoon is similar to some other camera drones in its class, but the fact that is comes with 2 batteries, an integrated Android touchscreen & handheld gimbal system give the drone a TON of value and make it one of the top picks in this list for sure.
Go back to table
Autel Robotics X-Star Premium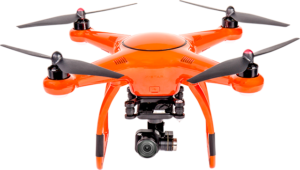 Nearing the upper threshold in the consumer/enthusiast drone category is the X-Star Premium, by Autel Robotics.  A premium upgrade doubles the live view range of this drone.  The X-star, equipped with a removable 4K camera and a 3D gimbal, allows future upgrades.
A live video feed is provided by this quadcopter via Autel's Starlink app but the device is not included, so you'll have to provide your own smartphone or tablet to see what the drone sees.  The controller does have a small LCD screen, which provides telemetry data.
X-Star has multiple autopilot flight modes too, so you can control the camera while the drone flies itself.  GPS auto flight modes include follow, orbit and waypoint - all configurable with one touch flight functions.  The X-Star quad also has a beginner mode that enables a geofence, for extra safety.
But the feature that elevates this drone to the next level, when compared to the ones listed so far, is the addition of optical flow positioning.
This technology uses vision cameras that allow the drone to 'see' its surroundings, and hold its position when GPS is not available.  It only works at relatively low altitudes, but it's a feature that allows flight indoors as well as outdoors.
Max flight time for the X-Star is 25 minutes from the 4900 mAh battery but not if your doing top speed, which is 35 mph.
This Autel drone is rated very highly on Amazon and with a lot of the same features, it's a good alternative to the Phantom 3 Pro.
Go back to table
DJI Phantom 3 Professional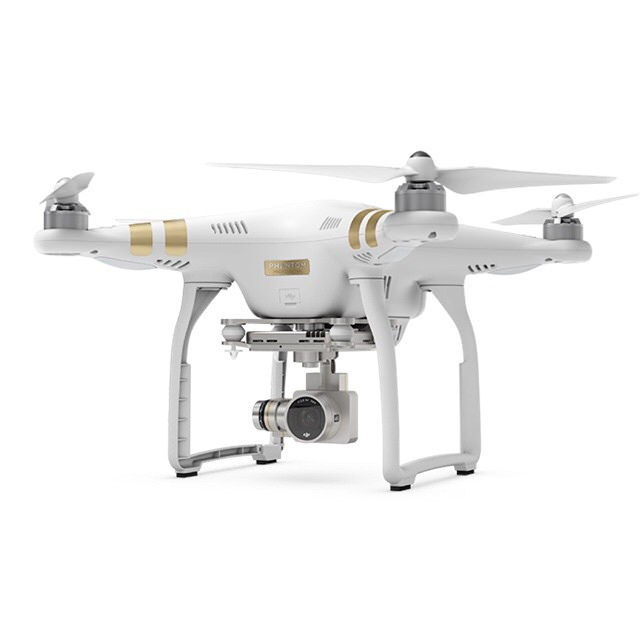 Bridging the gap between the consumer/enthusiast drone category and the prosumer category is the Phantom 3 Pro, by DJI.
Equipped with a 4K camera and a 3D gimbal, the Phantom 3 Professional offers 720p video streaming (DJI Lightbridge video downlink) with telemetry and full camera control during flight with the DJI pilot app.  But, you will need to connect your phone or tablet since a display is not provided.
The Phantom 3 Pro drone uses DJI's Vision positioning system.  This system incorporates optical and ultrasonic positioning sensors for precise hover holding control while indoors and at low altitudes, without a GPS signal.
Multiple automatic flight modes are available on the Phantom 3.  These modes include follow me, waypoint and point of interest in addition to the standard position hold, auto takeoff/landing and return to home.
DJI includes a pre-loaded database of Federal no-fly zones with this drone.  And if you live near Washington DC, the Phantom won't arm the motors within 15 miles of the White House - even if you're flying on your own property.
Expect the flight time on the Phantom 3 Pro to be around 23 minutes with a top speed of 36 mph.  It comes with a 4480 mAh battery, charged and ready to go.
DJI is probably the most trusted names in the drone industry and the Phantom 3 Professional is a very capable and solid choice in this price category.
Go back to table
DJI Mavic Pro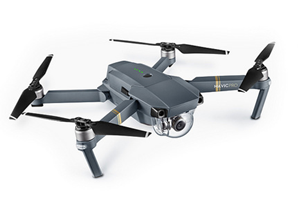 The DJI Mavic Pro is an extremely capable drone that has an excellent camera and many GPS modes.  It's also very compact.  When not in use, it folds up to about the size of a water bottle.  The controller also folds, making the Mavic a great choice for those who want to bring their drone while they travel.
The DJI Mavic Pro is equipped with a 4K camera and 3D gimbal, that is tucked up under its nose.  But don't let the tiny size fool you.  The camera is capable of recognizing many different objects like people, bikes, vehicles, etc…  Mavic's camera can also recognize your hand gestures to follow you or take selfies.
Mavic has something called Tripod mode, which lowers the maximum speed of the drone to 2 mph while dulling the sensitivity of the sticks.  This feature lets you get some really accurate video framing, and is also very useful for indoor flying.
The Mavic Pro comes with a pretty advanced obstacle avoidance system too.  The system is activated in every intelligent flight mode.  This advanced GPS drone uses 5 vision camera sensors as well as 2 ultrasonic range sensors to create a virtual map of its surroundings.  It can "see" objects at up to 50 ft in front of it!
Unique Return to Home
When using return to home mode, the Mavic's cameras and GPS work together.  The drone will take a picture of the launch position and tag it with GPS coordinates.  Then, when it comes times to return to home, the drone flies to the GPS coordinates it saved and "looks" for the launch point.  The image of the ground is matched against the one that was stored for the ultimate in RTH precision.
Instead of using the controller, you can also fly the Mavic Pro with your phone when using the DJI GO app.  The app still lets you access intelligent flight modes like:  Tapfly, Trace, Spotlight, Profile and Sport mode.
Another really cool feature of the Mavic, and one that makes it stand out, is the ability to set and maintain a given height from the ground.  This normally wouldn't be possible on a drone simply equipped with GPS, but the addition of camera sensors make it possible.  Set a fixed point above the ground and Mavic will maintain that offset, even over hills, valleys, or any other terrain change.
The DJI Mavic Pro's flight time is about 27 minutes from its 3830 mAh battery.  Top speed is around 40 mph in sport mode, and the maximum range is around 4.3 miles.  The Mavic will transmit live video back to the operator in either 720p or 1080p resolution and with automatic video editing templates built into the app, you can share directly to social media.
Go back to table
DJI Phantom 4 Professional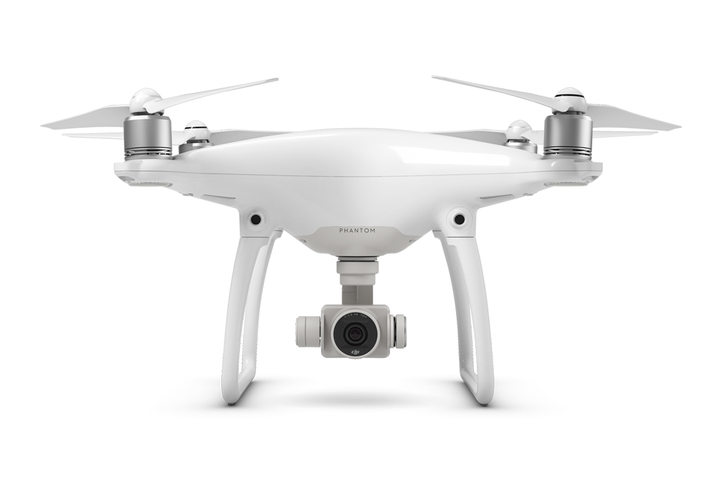 Another drone on this list smart enough to make decisions, is the Phantom 4 Professional.  The pro version of this drone gives you a considerable camera upgrade, with its massive 1 inch 20MP CMOS sensor and mechanical shutter.
The quadcopter's frame has was also improved, using a titanium magnesium alloy makes the weight of the Phantom 4 Pro similar to the base model - even with the upgraded camera and 3D gimbal.
But probably the most advanced feature of the Phantom 4 Professional, and probably the biggest selling point (along with the camera), is the obstacle avoidance.
This Drone Is Constantly On the Look Out
With an array of vision sensors on the front, rear and bottom as well as infrared sensors on the sides, the Phantom 4 pro can detect obstacles and navigate around them in 4 different directions.   This is a great feature, that allows you to focus on getting that perfect shot without having to worry that your autopilot will fly your drone right into a tree.
The Phantom 4 supports lots of automatic flight modes and even a sport mode where a top speed of 45 mph is possible.  DJI's active track flight modes are able to automatically recognize objects or people and follow them as they move.
Advanced algorithms make the tracking possible without having to use a separate GPS module attached to your subject.
The controller for the Phantom 4 Professional has an upgraded Lightbridge HD video transmission system, with dual band support in both the 2.4 & 5.8 GHz frequencies.  The Pro+ model even comes with a 5.5" 1080p screen to view your flights in all their glory.
A few other mentions for the DJI Phantom 4 Pro include:  a 28 minute flight time, a 5350 mAh LiPo battery and automatic recording of flight logs.
Go back to table
Yuneec Typhoon H Pro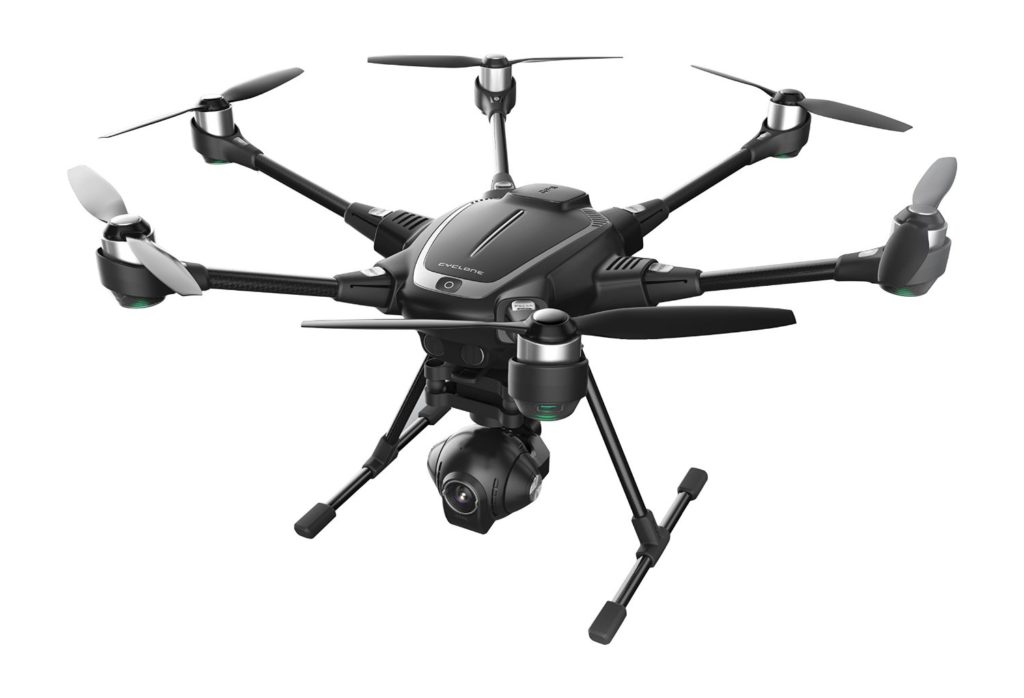 Winner of the 2016 CES 'Best of Class' award is the Yuneec Typhoon H Pro hexacopter.
And my personal favorite on this list.
This prosumer level drone offers Intel Realsense technology, a 360o gimbal and automatic retracting landing gear.
Also, being a hexacopter, the Typhoon H offers 6 rotor smoothness and a 5 rotor backup if you happen to lose one of your propellers or motors.
The Typhoon H Pro's awesome upgrade over the base Typhoon H is the addition of Intel Realsense environment sense and avoidance technology.
What is Intel Realsense?
This amazing feature takes collision avoidance to the next level.  The drone's sonar and vision sensors scan its surroundings and build 3D maps of its environment.
Most other drones simply react to individual obstacles that appear in their path. Using GPS, the Typhoon H will actually remember obstacles that it encounters, steering around them while still following you...very cool.
Want to see it in action?  Just check out the video below and tell me you don't want one.
The Typhoon H Pro comes with a 4K CG03+ camera, stabilized by a 3D gimbal.  Retractable landing gear removes itself from the shot, which comes in handy with the 360o of gimbal rotation available.
There's eight autonomous flight modes, accessible via the android powered ST16 ground station controller.  The ST16 includes a 7" touchscreen where you can view a live feed of the video or check out in-flight parameters. The flight modes are pretty standard: follow me, orbit, waypoints, auto takeoff/land, etc..
You will get about 25 minutes of flight time from the Typhoon H, with its 5400 mAh LiPo battery.  Maximum speed is 43 mph.  This version of the hexacopter also comes with an extra battery, extra props and a backpack carrying case. Another great feature of this drone is the quick disconnecting propellers and folding arms, which let it fit nicely into the included backpack.
Typhoon H's altitude is restricted to the FAA's rule of 400ft.  The drone also includes  a database of FAA complaint no-fly zones, which basically prevents flight near commercial airports.
Go back to table
DJI Inspire 1 Pro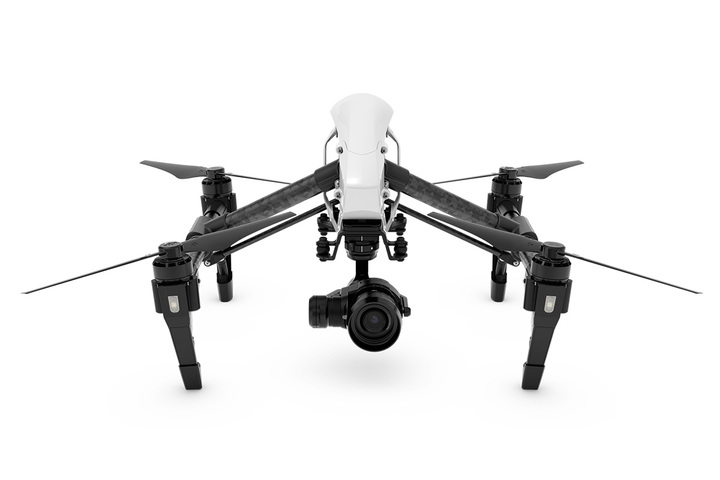 The Inspire 1 Pro quadcopter, by DJI, is the first  professional level drone in this list.
Equipped with a Zenmuse X5 4K camera and gimbal system, this drone was made specifically with aerial photography and cinematography in mind.
It has a kickass design too.
Carbon fiber arms on the Inspire, transform after takeoff.  Maneuvering in the air, the drone changes its configuration which allows the gimbal to have 360o of unobstructed view.
The Inspire 1 Pro is a great drone for creating professional video - the X5 camera is probably the best feature.  It also supports dual operators, so one can pilot the drone and the other controls the camera.
The X5 camera uses a powerful Panasonic GH4 sensor and comes with a standard interchangeable lens mount.  You also have full control over manual camera features like focus and aperture, during the flight. Multiple GPS flight modes are available with the Inspire 1 Pro too, while DJI's vision positioning system is used for indoor or GPS free flights.
This drone is big, but powerful...it has a top speed of 49 mph.  Sadly though the flight time is really poor.  The undersized 4500 mAh battery only provides about 15 minutes, but it's still enough to utilize the full 5 km range.Another downside of the Inspire 1 Pro is the lack of any collision avoidance.  Considering the price of this quadcopter, not having the vision system is a big disappointment.
Go back to table
DJI Inspire 2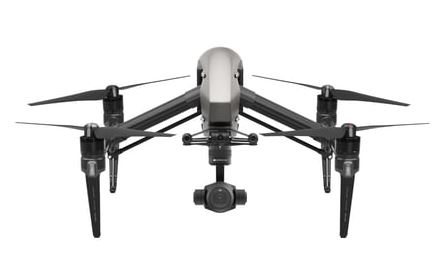 The DJI Inspire 2...basically an Inspire 1, but jacked up on steroids.
Everything that was great about the original Inspire has been improved upon and the major downsides of the Inpire 1 have been addressed as well.
The major improvements are:
A new propulsion system which propels the Inspire 2 at speeds up to 58 mph!  It accelerates 0 to 50 in 5 seconds and descends at 20 mph, that's wicked agility for such a big drone. The Inspire 2 utilizes a dual battery system (2 4280mAh) that extends flight times up to 27 minutes, a HUGE improvement.  A battery self heating system enables the Inspire 2 to fly reliably in very low temperatures too.
Autonomous flight gets upgraded as well, with 2 directions of obstacle avoidance protecting your flight up to 34 mph.  The Inspire 2 uses forward and downward vision sensors as well as upward infrared sensing, which is good for detecting ceilings when flying indoors.
Intelligent flight modes add the new spotlight pro and tracking mode.  The standard modes available on the Inspire 1 are still available too.  The Inspire 2 has an advanced FPV system, that streams 1080p from both the onboard FPV camera as well as the main camera.
But the camera and image processing capability are probably the biggest upgrades on this drone.
Professional Imaging System
The Inspire 2 comes with DJI's new CineCore 2.0 system can process and output 5.2K RAW video in different professional formats like CinemaDNG and Apple ProRes. Another professional feature of this drone is that broadcasters can live stream the video feed from the Inspire 2.  The controller interfaces with a satellite truck, which then broadcasts the live video.
The DJI Inspire 2, truly a drone designed with the professional in mind.  Check out the package on Amazon equipped with the X5S camera and included license keys for CinemaDNG and Apple ProRes video editing software.
I hope you've enjoyed reading our list of what we consider some of the best GPS camera drones currently available.  Maybe you even found your next one, or your first one?
I know, I admit the last one on the list is probably out of most people's league.  But it was so cool I just had to mention it...it does almost 60 mph, while filming in cinema quality!
It's amazing how much the technology has advanced in the past few years, allowing feature packed drones like these to be available in the consumer market.
I'd love to hear your thoughts on the drones in this post.  Have a any personal experience with any of them, or know of any others that are worth mentioning?  Leave a comment and let me know!
Go back to table