Zerotech Dobby Pocket Drone – First Look
The Zerotech Dobby pocket drone is a cool little machine.  It's a mini quadcopter that takes selfies and folds up so small it can fit in your pocket.
And just recently, Zerotech announced the Dobby will now be available in the US and Canada!
This drone is loaded with features too…features that you would normally find in much larger and more expensive drones.  Capture 13MP images and 4K video with precise hovering or autonomous target tracking both indoors and out.
The Dobby – made for those with little or no experience.  With built in tutorials, Zerotech claims you'll be an aerial photography master in 5 minutes.
TheRCDroneHub.com may receive a commission for any purchases made through this post.  See more details here.
Click Here to Buy It at Amazon.com
Awesome Design Features Prove Size Doesn't Matter
The Dobby is a small, foldable drone.  Its rotors are mounted on arms that easily fold into the body of the quadcopter.
With the propellers and arms folded in, the Dobby compacts to about the size of a large cell phone (but thicker) or glasses case.  A perfect size to throw in your coat or pants pocket, although it may be a snug fit in your pants.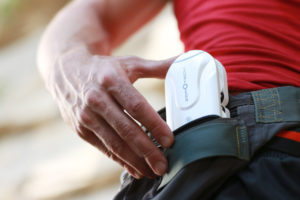 The bottom line is that it is extremely portable.  This is a very convenient feature for bringing your drone along to places where you want to get some great shots, but don't want to lug a larger drone and all the support gear around.
It's hard to get those great spontaneous video shots unless you want to carry your drone, controller and FPV equipment everywhere you go.  With the Dobby, all you need is some pocket space and a smartphone.
The compact size of the Dobby also means that it's lightweight.  The Dobby weighs 199 grams to be exact, which is roughly 50 grams under the FAA's limit for drone registration.
That's right:
You won't have to register your Zerotech Dobby with the FAA, which is nice.
Flight time for the Dobby is around 9 minutes, from the 2S 970 mAh removable LiPo battery.  Not that great, but not too bad either – especially for its small size.
The best part – is the 45 minute full recharge time – made possible by a fast charging feature.  Charging the Dobby is done via USB.  Bring your favorite power bank along for recharges while you're out and about.
The camera has a 75 degree distortion free lens with 3 axis electric image stabilization.  It can take 13MP still images and 4K video raw and 1080p after the image stabilization.
There are 3 still image modes too:  single shot, continuous burst and a time delay.
Dobby Pocket Drone Takes Selfies to Another Level, Literally!
This little quad is packed with features that a lot of other larger drones charge in upwards of $1000 or more for.
Image you and some friends are in front of some landmark or cool scene that would make a great picture.  The 10 second auto pull away selfie feature is perfect for those quick shots.  No more asking someone passing by, "excuse me, but could you take a picture of us please?"
Or how about standing on a bridge, or on a beach, or near a cliff?  Places where it would be impossible to get the perspective with a regular camera.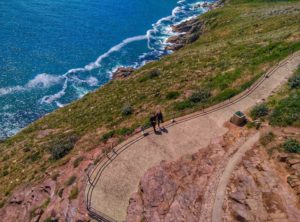 The Dobby will grab that short for you, from a bird's eye view too – adding that extra dimension to your vacation photos.
You may not have heard of Zerotech before reading this article, but they have over 9 years of industry experience dealing with professional target following, facial tracking, and more.
All of this experience is put to work in the tracking technology present in the Dobby.  It can autonomously hover or track you, while recording video.  The drone will keep the camera where you want it too, thanks to its facial recognition software.
The Dobby is able to hover or track autonomously inside as well as outside, which I think is an awesome feature.
It can hold its own on a breezy day too.  The Dobby can hover in winds up to 17 mph or 28 km/hr, not bad for such a little quad.
Yes it has GPS for great positioning outdoors, but it also uses optical flow and ultrasonic wave positioning while it's inside.
Basically, it uses a precision camera and a form of SONAR to stay on point while inside and deliver a stable image.  Very cool.
Control the Dobby With a Phone, Gestures or Even Your Voice
The Dobby pocket drone is controlled via dual band WiFi with an app on your phone, which also provides a live camera feed.  But that's not the only way to control it:
Launch it by throwing it, tapping it or even with a voice command.
When not in fully autonomous mode, you can control it with hand gestures too.
Since the Dobby's link is with your phone, all of the images and video can be instantly stored there.
A few button presses and the app will push your media to your favorite social media platform for instant, on the spot sharing.
The Zerotech Dobby pocket drone is super compact and has a TON of features for the price.
Small enough to carry in your pocket or easily stowed in a bag, you can always bring the Dobby with you to get some great video of your adventures.
It's also geared toward beginners and very easy to use – with a list of features that make it one of the coolest little drones you can buy.
Check out Zerotech's website for a more detailed spec list on the Dobby.