DJI Spark Drone – Everything You Need to Know
The DJI Spark drone is a fun to fly, easy to use mini camera quadcopter that can lift off from the palm of your hand.  Spark is DJI's first entry into the mini drone category.  The Spark is also the first drone you can completely control only with hand gestures.
Don't let the size of the Spark fool you.  It packs a lot of features in such a small package.  The Spark has intelligent flight control, a mechanical gimbal and a built in camera with awesome image quality for its size.
TheRCDroneHub.com may receive a commission for any purchases made through this post.  See more details here.
New with the DJI Spark drone are two advanced flight control features: face aware and gesture mode.
In face aware mode, the Spark recognizes your face and lift off from the palm of your hand.  After is does this, the Spark automatically enters gesture mode.  Gesture mode has palm control, which lets you control the Spark with hand movements.
For a quick selfie, you can send the Spark up and away from you, snap the shot and then call it back just with your hands.
The DJI Spark drone has a small compact size.  It would fit into most bags, with its folding propellers.  The Spark only weighs about 300 grams too, which is less than a can of soda.
In addition to controlling the Spark with your hands, the drone can also be controlled with a mobile device or optional remote controller.  The controller is available as an upgrade with the "fly more combo".  Expect to pay about $40 more for the fly more combo but you get other stuff with it as well that makes it a pretty good deal.
Along with the Spark quadcopter, the fly more combo comes with the controller, 2 batteries, four pairs of props, prop guards, a charging hub, shoulder bag and all necessary cables.  The upgraded charger with the combo can charge 2 batteries in 55 minutes.  That's a big upgrade from the base USB charger that can only charge one Spark battery in 80 minutes.
If you opt for just the Spark drone, and not the combo you will save a little bit of money.  But it will only come with one battery, the charger and 3 pairs of props.  With all the extra stuff you get with the fly more combo,  the 40 bucks is well worth it!
The DJI Spark comes in 5 different colors…white, sky blue, green, red and yellow.
Click Here to Buy It at Amazon.com
DJI Spark's New Flight Options
The Spark is DJI's first drone to offer the QuickShot intelligent flight mode.
QuickShot Makes it Easy to Create Professional Looking Videos with Your Drone
When you select a QuickShot mode, the Spark will fly along a preset path.  When it flies along the path, the Spark will record a short video while tracking a subject.  The drone automatically creates a 10 sec video for sharing directly to your favorite social media.
The DJI Spark has 4 different QuickShot modes:
Rocket – send the Spark straight up in the air with its gimbal pointed down
Dronie – (the drone powered selfie) fly up and away from your subject
Circle – rotate around your subject
Helix – spiral away from a subject while flying upward (it's like rocket, but with a twist!)
Established Flight Modes TapFly & ActiveTrack are Also Available on the DJI Spark Drone
TapFly has a new sub-mode on the Spark quadcopter, it's called coordinate.  This mode is based on Vision technology and lets you fly to a location tapped on a mobile device.  TapFly direction mode allows you to keep flying in the direction  you tap on the screen.
In ActiveTrack mode, the Spark automatically recognizes and tracks an object you choose, centering it in the frame for the perfect shot.  ActiveTrack has 2 sub-modes: trace and profile.
Trace mode tracks a target from in front or behind or even circles around it.  In profile mode, the Spark follows a target from a fixed perspective.
In either mode, the DJI Spark 3D sensing system will actively sense and avoid obstacles that are in front of the drone.
Gesture Mode Uses Deep Learning Gesture Recognition
Take drone selfies with the Spark.  You can raise your arms, wave your hand or make a frame with your fingers to position the Spark and take pictures.  With the Palm Control feature, the Spark can be completely controlled with hand movements.  Even the take off and land right from the palm of your hand. (if you value your fingers, you might want to use propeller guards for this)
Sport Mode is Available When the Remote Controller is Used With the Spark
In sport mode, the DJI Spark can hit speeds of 31 mph.  That's pretty good for a non-racing drone of this size.  Sport mode sets the Spark's gimbal to FPV mode by default.  This locks the position of the camera, relative to the quadcopter.  In other words, the video will not be stabilized…you see what the drone sees.  (if you've ever flown FPV, you know this is essential to maintain proper flight and orientation)  Spark is also compatible with DJI googles, so you get can that ultimate FPV experience.
DJI Spark Camera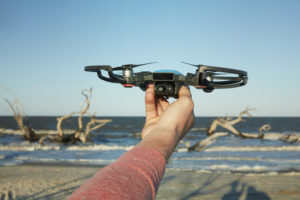 The camera on the Spark quadcopter is impressive.  It has a 1/2.3″ sensor with an 81.9 deg FOV.  The camera records stabilized 1080p video at 30 frames per second, and still photos at 12 MP.  Spark uses a mechanical gimbal that stabilizes on 2 axes.  The gimbal uses DJI's UltraSmooth technology that automatically reduces shake and rolling shutter distortion.
The Spark's camera includes a lot of previous DJI drone shooting modes, with 2 new additions:
Pano…and shallow focus.
In pano mode, Spark's camera will create horizontal or vertical panoramas by automatically adjusting the drone's gimbal and heading to get the shots it needs.  The camera takes a series of pics (3 for vertical, 9 for horizontal) and stitches them together to create one seamless panoramic photo.  You're probably familiar with this method if you've ever used the panoramic feature on your smartphone camera.  It's pretty much the same thing.
In shallow focus mode, the Spark's camera can take pictures with a DSLR camera effect.  The camera takes part of the picture in sharp focus but softens and slightly blurs the rest of the image.  It creates photos with a shallow depth of field, and really makes the subject stand out.
There are also many filters and automatic editing tools/templates available in the DJI GO 4 app.  You can quickly edit videos then share them directly to Facebook, YouTube, Twitter, Instagram, and other platforms.
DJI Spark Flight Autonomy
The Spark's flight autonomy system is really a network of many components all working together…
A main camera, downward facing vision system, forward facing 3D sensing system, dual band GPS and GLONASS, high precision accelerometers & 24 computing cores.
All of these components allow the Spark to hover accurately, using its vision system, at up to 98 feet and sense obstacles from up to 16 feet away at up to 7 mph.
No GPS equipped drone would be complete without RTH (return to home) mode, and the DJI Spark is no exception.  When the remote's battery gets low, the connection is lost, or you press the RTH button, Spark will autonomously fly back to the preset home position and land.  It does this all while sensing and avoiding any obstacles in its path.  It goes without saying that you need to have a good GPS signal, in order for this mode to work.
DJI's GEO system, or NFZ geofencing, is also integrated into the Spark drone.  DJI says this will "provide you with up-to-date guidance on areas where flight may be limited by regulations or raise safety or security concerns – helping you fly safely and responsibly".
What does that really mean?
It means DJI's geofence will physically inhibit the Spark from flying into any "no fly zone" and will ground you if you try to fly while inside of one.
The Spark will not operate in areas the FAA has deemed no fly zones for drones: inside national parks, within 5 miles of an airport, near wildfires, anywhere inside Washington D.C., etc..
Granted these are all places where you shouldn't be flying anyway.  But the decision should be up to the pilot, not the manufacturer of the drone.  It's a little unnerving knowing that DJI has the ability to restrict your flight, kinda takes some of your freedom away doesn't it?
And that's not the only restriction DJI puts on you either…
So you don't have to register your drone with the FAA anymore, but DJI requires anyone that owns or purchases a new DJI drone to register it with them.  When you update to the latest version of the DJI GO or GO 4 App, you will have to log in, register and activate your aircraft.
Per DJI…"if this activation process is not performed, the aircraft will not have access to the correct geospatial  information and flight functions for that region, and its operations will be restricted if you update the upcoming firmware".  The "restriction" includes disabling of the drone's live camera streaming, and flight will be limited to a 50 meter (164 ft) radius and a 30 meter (98 ft) altitude.
Some Early Issues With the DJI Spark
Like any new product, the DJI Spark has not launched without its share of issues.  There have been a few articles circulating, like this one, mentioning that a little over a dozen users have said their Sparks have shut down and plummeted from the sky during their flight.  Honestly, it's not that uncommon.  A search of issues related to any mainstream drone launched in the last few years will yield similar stories.  Just look at the infamous GoPro drone, the Karma.
DJI did release a statement regarding these early issues with the Spark, here is what they said:
"DJI is aware of a small number of reports involving Spark drones that have lost power mid-flight. Flight safety and product reliability are top priorities. Our engineers are thoroughly reviewing each customer case and working to address this matter urgently. DJI products are tested for thousands of hours, and the overwhelming number of customers enjoy using our products with minimal disruption."
Let's hope these early issues are just some normal bugs and are not the sign of something more serious, which could ultimately doom the product.
DJI Spark Drone Specs
Weight

300 grams

Top Speed

31 mph in sport mode

Flight Time

16 min

Battery

3S 1480 mAh LiPo

Range

1.2 mi, with controller

164 ft altitude and 330 ft distance without controller

Positioning

GPS + GLONASS

Vision

Radar