How Are Drones Used After a Hurricane?
Now that hurricane Matthew has left its mark on the southeast Atlantic coast of the U.S., you may be wondering…how are drones used after a hurricane?
I wanted to post this since there's been a bit of negative media attention concerning the use of drones over the past week or so. There was a story circulating about how some terrorist organizations were using consumer drones as makeshift weapons.  The news is troubling to say the least, that people are using this awesome technology in this way.
That's why I wanted to post about some of the helpful and constructive ways that drones are being used.  In reality, drones are becoming a go-to resource after natural disasters like Matthew.  They allow quick pre-assessments of situations, providing vital real-time information to the people that need it.  Check out some of the ways that people are using drones to help others and restore life after disaster strikes.
How Drones Are Used to Keep Your 4G Network Up
In the Carolinas, Verizon is using drones to assist in cell tower inspections.  In places affected by extreme flooding, drones are allowing  access to areas that are difficult to reach.  They provide an initial inspection of the site and relay important feedback on any damaged equipment.
The drone inspections, conducted by Measure UAS Inc, use a quadcopter dubbed as an Unmanned Aerial System or UAS.  Their quadcopter has the ability to take high-res photos as well as stream HD video back to the operator
Depending on how bad the flooding is, these initial aerial surveys can reduce site recovery time to hours instead of days.  I'm sure, as mobile phone users, we can appreciate that!
In one specific example, near Elm City, N.C., the site in question was completely surrounded by water. Engineers had no way of knowing if the equipment was in any working order or if they could bring it back online.  The drone used to inspect the site found the equipment at the base of the tower elevated on stilts, therefore safe from any water damage.  Armed with this info, the Verizon network team determined the site was safe to access.  So they hopped in an air boat, drove out to the flooded site, and refueled the generator…the site was back in service within hours.  Can you hear me now?
How Drones Are Used for Search and Rescue
A Navy veteran in Hopes Mills, North Carolina was rescued thanks to pictures taken from a drone and the power of social media.  Craig Williams of Austin, Texas was trying to help out his brother Chris who was stuck on the second floor of his house, along with his dog.  Craig was on Twitter, looking for any info on when the flood waters would recede when he came across a picture taken with a drone of a neighborhood that was completely underwater.  He sent the pic to his brother as a joke, not thinking that his brother's situation was that bad.  As luck would have it, the picture was of Chris's house!
Craig was able to contact the pilot and photographer, Quavas Hart.  Quavas was able to signal a rescue crew with his drone and get them over to the house, saving Chris and his dog.  Check out the news video about the rescue below.
How Drones Are Used to Survey Property Damage
Insurance companies are now starting to use drones, to inspect homes and other buildings for signs of roof damage.  Drone inspections are a lot safer for the adjusters.  In most cases an accurate assessment of the damage is achieved just with the drone.  This eliminates the need for the adjusters having to climb onto roofs, which I'm sure they appreciate.  Plus, you really come off looking like a pro when your using a robot to do inspections.  Storm damage inspections via drone also speed up the entire claims process.  This benefits both the insurance company as well as the customer.
Last Friday an Allstate team used a DJI Inspire, operated by CDS aviation, to survey a customer's roof damage.  The drone provided a bird's eye view of the damage to the roof from the nearby downed trees.  Allstate says this was the first time that they've used this tech after a major natural disaster.  They did test this method, last month, when they inspected hail damage to some roofs in Sequin/New Braunfels area of Texas.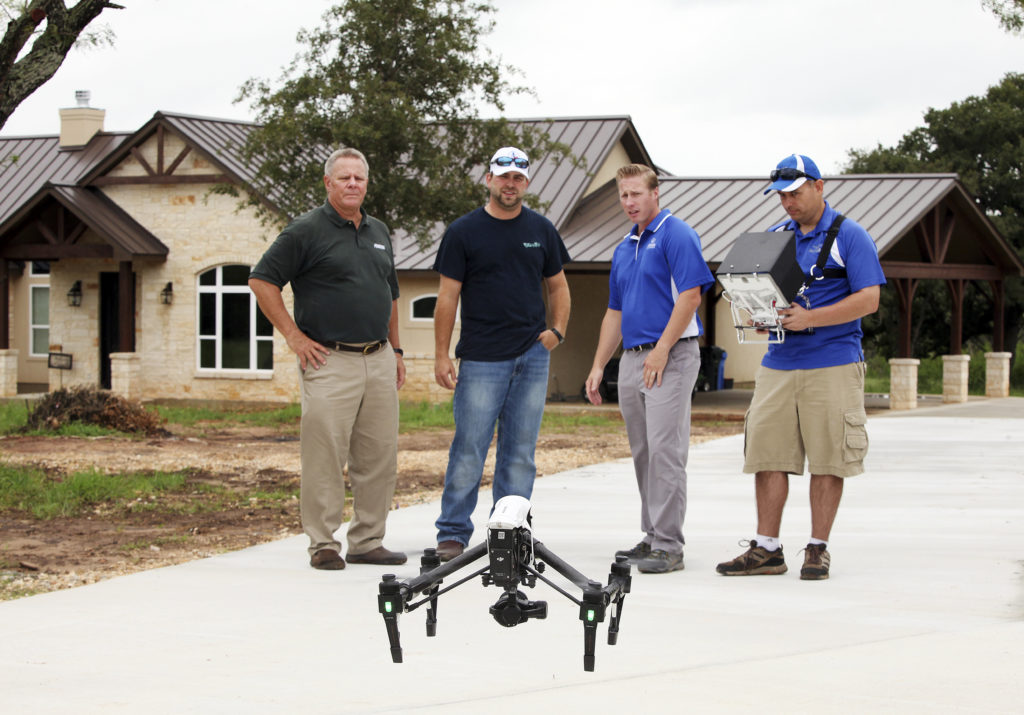 Traveler's Insurance Companies Inc, is also using drones as damage surveying tools in the wake of Matthew.  The company currently has teams armed with drones on assignment in South Carolina, Georgia as well as other storm affected states.
How Drones Are Used for Data Collection
Ok, so this one is actually how drones are used during a hurricane.   But it's still a really beneficial application of the technology…
Getting instruments into the heart of a major storm like Matthew is a jackpot for data collection.  All of the sophisticated simulations in the world will never be as good as data collection on the real thing.  That's why NASA has been flying drones into hurricanes, hoping to gather as much info as they can while utilizing this incredible unmanned technology.  In addition to different types manned aircraft that monitor the storm, NASA has been using their Global Hawk drones to fly over and drop sensors into hurricanes.
But the technology is advancing…hurricane Matthew marks the first time NASA has deployed their latest tech in a major storm.  NASA calls it the Coyote.  It's basically a flying sensor, a small drone with folding wings, launched through the fuselage of a support plane.  These small, motorized drones are controlled by pilots in the support plane and have a flight time of about an hour and a half.  These little (relatively speaking) drones provide MUCH more data than the traditional drop-type sensors.  Instead of collecting data while plummeting to Earth, the drones can zoom around and soak up readings from multiple locations.  All from a single deployment.
How Drones Are Used to Quickly Survey Changes in Landscape
Drones are the ultimate tool for this kind of work.  Much cheaper to operate than a helicopter, they are also able to launch from just about anywhere.  This allows them to provide a unique, low altitude perspective when surveying the landscape.  Drones equipped with video cameras as well as 3D mapping equipment can quickly identify shoreline erosion and other geographical feature changes.
These drones are also able to show just how widespread the hurricane's destruction really is.  Drone footage is emerging from the Bahamas, Hati and the southeastern United States showing many areas decimated by the storm, with a point of view only a drone can provide.
There are many positive uses of drones after disasters like hurricane Matthew. The uses range from inspections of infrastructure and property damage, to search and rescue operations, data analysis and landscape surveying.  Drones are shaping up to be the go-to resource for quick assessments after natural disasters.
Hopefully this post has restored some of your faith in drones by showing some of the helpful and beneficial ways they can help society.
What do you think about the ways drones are being used after a hurricane?  Do you know of any other ways?  I'd love to hear more, feel free to leave a comment below!