Ultimate LiPo Battery Guide: How to Safely Charge, Discharge and Store Your LiPo Batteries
LiPo battery packs (LiPo stands for lithium polymer) are becoming very popular these days.  They are the best choice for RC electric vehicles that require a long runtime and high power.
But LiPo batteries can also be very dangerous, if you don't know what you're doing.
That's why these batteries need extra care while charging, storing, and using to make sure they last and don't end up incinerating everything you own.
I know.  That sounds intimidating, but don't worry.
Even though there's a lot of horror stories out there about packs bursting into flames and even exploding…
The truth is proper handling and storage of LiPo battery packs will greatly reduce the chance of that happening.  And with the proper safety equipment, you will be prepared just in case.
What you'll learn
This article sums up all the basics you need to know, to safely use a LiPo battery.
Here's what you'll learn:
The basics of LiPo batteries and what their ratings mean
Proper methods for charging and handling  of a LiPo battery
The easiest way to discharge a LiPo battery for storage and the best way to store the battery
How to dispose of a bad/old LiPo pack…safely
Some other useful Lipo battery tips
Basic Info & LiPo Battery Terminology
The most common form of LiPo batteries come in a "non-rigid pouch" configuration.  They are made up of one or more cells of a soft polymer electrolyte and are very lightweight.
Even though they are light:
LiPo battery packs offer incredible capacities and discharge rates, compared to their older NiMh/NiCd cousins.
(Nickel Metal Hydride and Nickel Cadmium batteries…they're the traditional type of re-chargeable batteries)
Lipo batteries also deliver a fairly flat voltage curve, as they discharge.  That's a good thing.  The power delivery is a lot more consistent as the charge is depleted.
What Do the LiPo Battery Ratings Mean?
LiPo batteries come in different sizes and ratings.  Typically, you'll see a rating that indicates the number of cells in the pack.  2s, 3s, 4s, etc…
Each cell has a nominal voltage of 3.7V (4.2 V fully charged) and in cells with multiple packs, they're wired in series; which means the voltages of the cells are added together for the total nominal voltage of the battery.
So a 2s pack has a nominal voltage of 7.4 V, a 3s has one of 11.1 V, a 4s has one of 14.8 V and so on.
Capacity – How Much Energy the Battery Holds
The overall capacity of a LiPo battery pack is given in mAh, or milliamp-hour, or 0.001 Amp-hour.  It tells how much charge or "fuel" the battery can store.
Think of it like the size of the gas tank in your car.
The bigger the tank, the farther you can go.  The higher the mAh rating, the longer the battery will provide power before needing a re-charge.
Simply put:
A battery with a rating of 1000 mAh should be able to provide 1 amp of current, for 1 hour.  Or 1/2 amp for 2 hours, or 2 amps for 1/2 hour, etc…
C Rating – How Fast the Battery Can Deliver Its Energy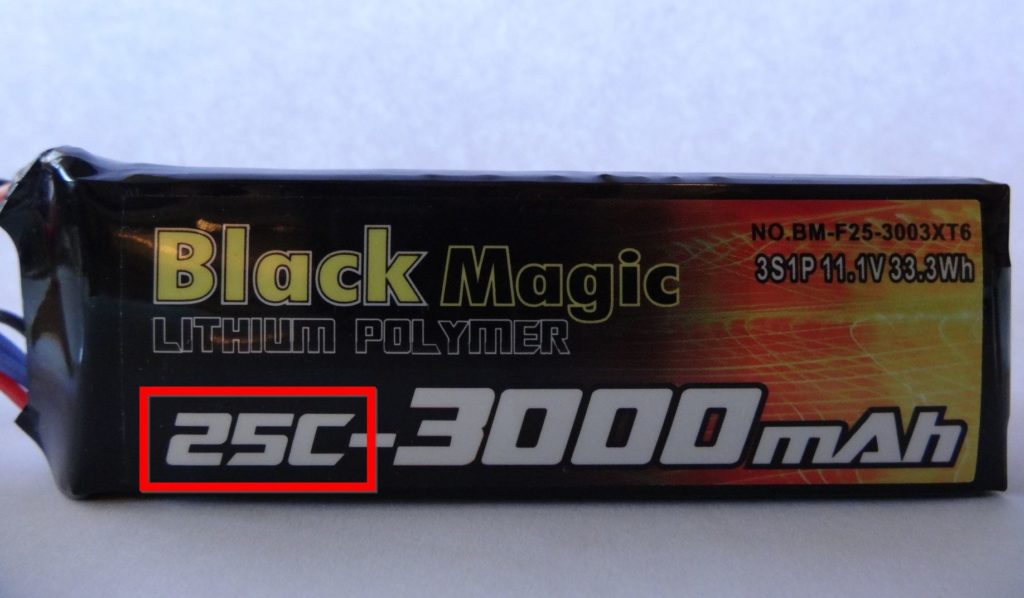 If the mAh rating is like the size of your gas tank, then keeping with the car analogy, the C rating (or discharge rating) would be sot of like the size of the fuel lines to your engine.
It tells you how much current the battery can safely provide to the motors or any other device that is being powered.
It's basically the max sustained load of the battery and it is defined as a multiple of the battery's capacity.
Note that the C rating is the sustained load of the battery, not the burst rating, which can be a much larger value in some cases.  Typically though, the burst cannot be maintained for more than 10 seconds.
For example:
A common 3s battery with a capacity of 3000 mAh and a discharge rating of 25C would be able to safely provide a current of…
3000 x 25 = 75,000 milliamps or 75 amps
That's a LOT of current for a rechargeable RC battery!
For perspective, the "fast charge" on your smartphone only draws about 2-3 amps of current.
Put another way, most alternators in cars these days have a rating around ~160 amps.  So this little RC battery would be providing almost ½ of the full rated current of the alternator on your car.  (and I used a rather medium rated battery in my example, some batteries are rated to 250 amps!)
You can see why these batteries have become so popular with the hobby.  Powerful motors and components are able to get the power they need from this kind of performance.
How to Charge a LiPo Battery, Without Burning Your House Down
When charging your LiPo battery, always make sure you use a charger that is compatible.  LiPos require a special charging method different from other NiMh/NiCad batteries.
They also need to be "balance charged".  That means each cell of the battery has to be charged evenly, i.e. the voltage has to be equalized across the cells.
If not, the battery can become unstable and pose a fire risk.  To do this, you need to use the balance charging port on your LiPo battery.
Always use a quality balance charger
There are a lot of cheap chargers out there but, in my opinion it's not worth it.  You are better off getting something like an iMAX B6 balance charger that can handle all sorts of different battery types.  I have one…it's a fantastic LiPo charger.  You can read more about the iMAX B6 LiPo charger in our in-depth review here.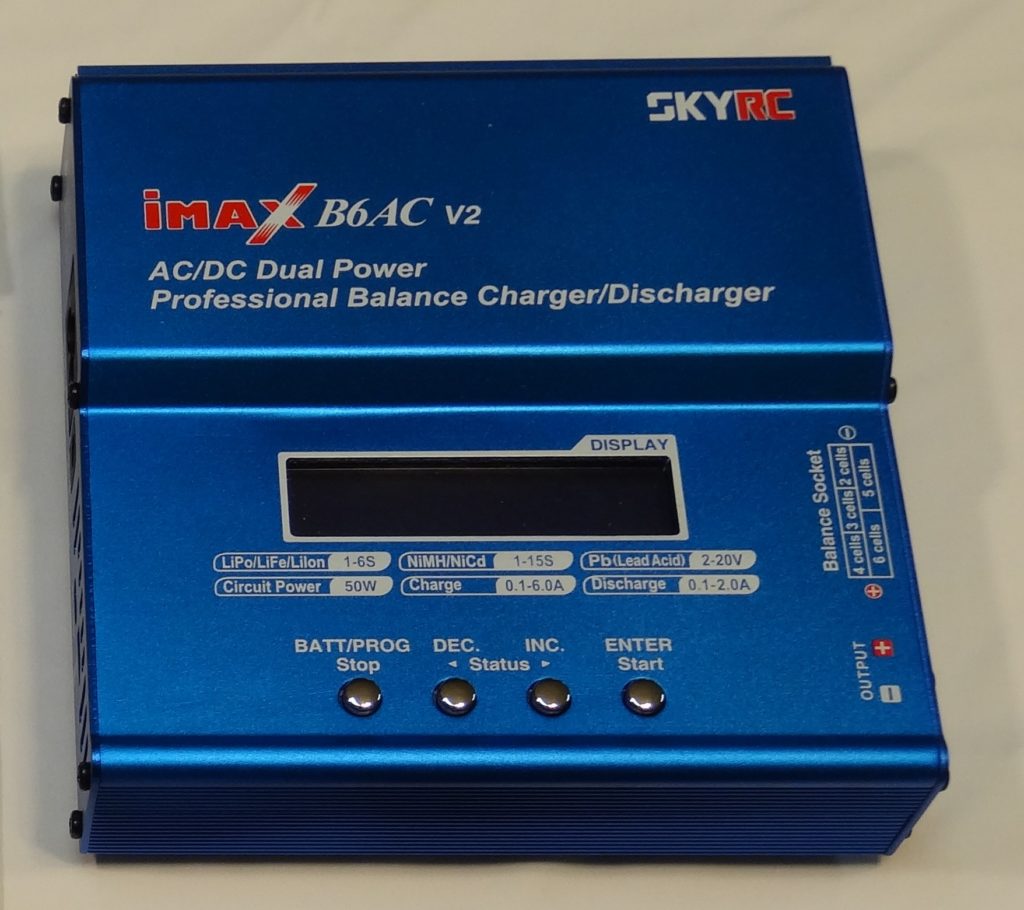 You need to be careful when charging your LiPo battery.  NEVER attempt to charge your battery if it is still hot from use or damaged in any way.
Most LiPo batteries have a maximum charge rate of 1C, or 1 times the capacity.  So, if your battery is 3000 mAh, then its max charging rate would be 3 amps.
I wouldn't recommend charging at higher rates without first verifying from the manufacturer what the max charge rating is.
ALWAYS charge your LiPo battery in a fire proof charging container.  LiPo safe bags work great for this, it's what I use but you could also use an ammo can or any other similar metal (fire proof) container.  Keep a Class D fire extinguisher nearby too – you need a dry chemical type for the metallic lithium in the battery.
The container won't prevent a fire, but it will do a lot to contain it and prevent it from spreading to something nearby.  So just be safe, and prepared.
Never charge your LiPo battery unattended, like while you're sleeping, or not home, or unable to check on it.
Also make sure that the battery is at room temperature, don't try to charge your LiPo at extreme temperatures – like if you just brought it in from the cold, or it had been sitting in the sun for hours.
How to Discharge a LiPo Battery for Storage, Don't Ruin Your Pack By Letting it Sit
It's counterintuitive, but LiPo batteries can't be stored fully charged.
So, just run them down to empty and you're good, right?
Wrong.
Storing LiPo batteries fully charged or fully depleted can actually damage the battery over time.  LiPo batteries need to be discharged and stored with cell voltages near nominal, at 3.8v.
If you haven't used your battery in a few days, and are not planning to, it's a good idea to put the battery in storage mode.  Damage to the battery can happen in as little as a week of sitting.
Again, use a quality balance charger.  Most of them have built in modes for LiPo storage…the iMAX B6 does.  Did I mention I love this charger?  You simply enter in the number of cells and the capacity of the battery.  The charger does the rest, balance discharging each cell down (or up) to 3.8v.
When storing your LiPo battery long term, always store at room temperature and use a proper container, like a fire proof LiPo bag.
NEVER store your battery in your RC vehicle, or in your car!
How to Safely Dispose of a LiPo Battery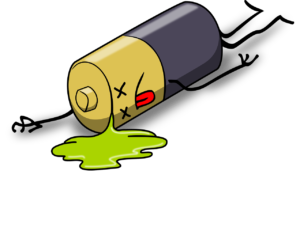 There are really only 2 ways to properly dispose of a LiPo battery pack:
Take it to your local hobby/RC shop and they have them dispose of it for you.
OR
Dispose of the battery yourself.  But before you just go chucking your LiPo in the trash, there are steps you need to take to ensure the battery's energy is completely depleted.
Once you do that, it's completely safe to just…throw away.
Here's how you do it:
Safely discharge the LiPo battery down as low as you can by running it, or by using a balance charger in discharge mode.
Once you've done that, further discharge the battery by hooking up a small LED, or similar load to it.  Leave the LED connected to the battery's terminals until the light is completely out, which may take a while (think days) depending on your battery's capacity.
It's also a good idea to submerge the battery in a bucket of sand.  Just…in…case.
Check the voltage of the battery with a meter, and make sure that it's down to 0.0v.  If it is, cut the wires (one at a time) and twist them together.
That's it.  Your LiPo battery can now be safely thrown away.
Twisting the wires together creates a short across the cells.  This ensures that no charge can build up within the battery, rendering it completely safe to toss in the trash.
Two More Tips On Puffed Packs and Low Voltage
Don't fully discharge your LiPo battery unless you plan on disposing of it.
I know it may be tempting to get just a few more minutes out of your RC vehicle but LiPo batteries have a low voltage per cell of 3.0v.
At no time during use, should the voltage drop below 3.0v.  If it does you run the risk of damaging the battery or even worse, fire and damage to your vehicle.
If your pack at any time becomes puffed or puffy, stop using it.  Wait for it to cool and see if the puffiness goes down.
I have had a few packs that got a little puffy, but then returned to an almost normal size.  I still use them, but I keep a very close eye on them.
It's up to you to decide if you should keep using your pack if it becomes puffy.  If it makes you nervous in any way, then it's best to be safe and just dispose of it.
If a pack ever becomes very puffy and stays that way, it's time to retire it for sure.
ABSOLUTELY DO NOT poke a hole in the plastic, to relieve the pressure.  It may be tempting, but the battery can turn into a blow torch in your hands.  Lithium reacts with oxygen, especially in the presence of heat, which creates more heat.  Chain reaction ensues.
Prepared With Knowledge
Now you know the basics of LiPo usage and handling.  You've learned about what a LiPo battery is and what their ratings mean; also how to charge, store and dispose of a LiPo battery properly.
Just be sure to adhere to the advice in this article, and you'll greatly reduce the chance of making a mistake and starting something on fire.  You'll also ensure a long life out of your battery with proper storage.
Do you know of any other LiPo battery tips?  Please feel free to leave a comment below, I'd love to hear your feedback.