New Parrot Mini Drones – Swing and Mambo.
New Parrot mini drones are hitting the market this month, the France based drone manufacturer recently announced, and they promise to be as playful as they are high tech.  Enter the Parrot Swing and Parrot Mambo.  The swing is a plane-type mini drone and boasts to be the first one that employs vertical take-off and landing and the Mambo is like the swiss army knife of drones. It transforms, with different accessories that can be attached depending on the task.  Oh…yeah…and one of those accessories happens to be a functioning cannon.
Parrot Swing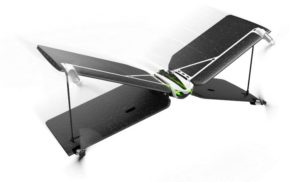 Not only does the streamlined Parrot Swing look fast and agile, it's also extremely lightweight…weighing in at only 2.6 oz.  Like a quadcopter, Swing takes off vertically.  It stabilizes it self in the air until you command it to switch to plane mode.  When you tell it to, the drone quickly and automatically transitions, turning its propellers and camera towards the horizon.  Just like the Parrot Disco, the Swing now flies like a traditional airplane…in the forward direction only.  When you're ready to end your mission, Swing will automatically switch back to quad mode and land safely for you.
But in the air is where Swing can really show off its stunt capabilities.   Parrot says the drone can fluidly perform high speed acrobatics like fast high-bank turns, u-turns, half-flips, loops, etc…  You can get a glimpse of how agile the Swing is when it flies.  Check out the way it quickly changes direction and seems to stop on a dime, in the official video below.
TheRCDroneHub.com may receive a commission for any purchases made through this post.  See more details here.
Parrot Mambo
Need to transport some small objects? Light up a dark path? Defend your space from a mini-drone attack? The playful Parrot Mambo mini drone can do it all and more. At just over 2 oz (without any attachments or hull present) this compact and light drone is an adventurous little acrobat for both beginner and expert pilots.
The Parrot Mambo comes with two different accessory attachments. Fire at moving or stationary targets with the six shot mini cannon! Set up targets to shoot or play drone tag, whatever you want…the small plastic pellets have a range of about 6 ½ ft. The Mambo also comes with a grabber attachment – little robot arms that can pick up and carry different objects (max weight 0.14 oz). Powerful white LED headlights are available too, at an additional cost – change brightness 'on-the-fly' or even send messages with flashing lights.
FreeFlight and Flypad Interfaces
Control all of these accessories with Parrot's smartphone app for all of its mini drones, FreeFlight Mini. The app – which controls the Swing as well – allows pilots to customize flight parameters,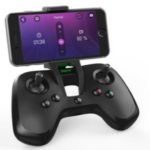 commands and configure the mini drones even when they're disconnected. The Free Flight Mini app also lets you configure Parrot's Flypad, which is a universal control for all Parrot's bluetooth mini drones.
The Flypad offers more precise flying, with its customizable joysticks and buttons while more than doubling the operational range of both of these new Parrot mini drones.  The Parrot Swing ships with the Flypad included, but you'll have to purchase one separately if you want to control the Mambo with it.
For more info on these new Parrot mini drones, check out their website…www.parrot.com
All images and video courtesy of Parrot.
Thanks for reading and I hope you found this article interesting.  Please feel free to leave your comments on these 2 new little drones, I'd like to hear what you think of them!
If you'd like to check out another cool little drone, check out our first look at the Zerotech Dobby.  It's an advanced little drone that folds up and fits in your pocket, it even has an automatic selfie function.