The PowerEgg Drone Redefines Modern Quadcopter Design
With its sleek, egg shaped body and long list of features, the PowerEgg claims to be the world's most intuitive drone. The new and radical Egg is the first entry into the consumer market for Chinese based drone manufacturer, Power Vision and it breaks the mold of what all traditional quadcopters look like. But form is not all the PowerEgg drone has to offer.  It happens to be packed with technology too, designed with both the enthusiast and beginner in mind.
Form Meets Function
The PowerEgg drone is about the size of a small watermelon (when retracted) and weighs around 4 1/2 lbs., which makes it easy to transport.  When stored, the propellers, struts arms and landing gear fold neatly into the base, compacting into an elegant piece of art.  Check out the teaser video at the end of this post for a demo.  In fact it even comes with its own stand so you can proudly put it on display.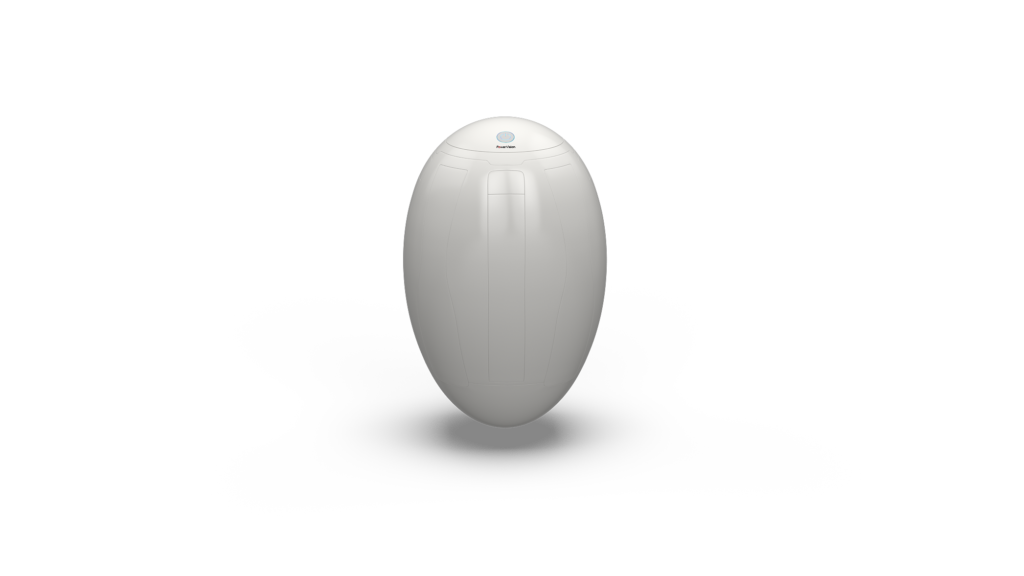 When it comes time to fly, you'll have to extend the arms and propellers manually but the landing gear will retract automatically when you take off and land, which is pretty cool.  It looks like something straight out of a sci-fi movie.
The quad incorporates its own camera and gimbal system, located under the bottom cover.  The Egg's 6400 mAh battery, housed under the top cover, provides approximately 23 minutes of flight time.
The PowerEgg's 1/2.3″ CMOS camera sensor provides stunning video in 4K.  Unobstructed panoramic 360 degree views are also possible thanks to the gimbal and its 3 axis stabilization, a feature which will ensure the video is ultra smooth.
Intuitive Flight Control
You'll be able to fly the PowerEgg right out of the box, using its innovative one-handed gesture based control.  Called the PowerEgg Maestro, the Nintendo Wii-like remote integrates advanced accelerometers and gyroscopes which it uses to recognize the motions and gestures of the user.  This allows the pilot to control the drone's up-down, left-right, and near-far movement with a wave of the arm.  The Maestro also makes push of a button take off and landings a possibility as well.  Simply push a button to have it take off and hover at a set altitude, waiting for your next command.
More experienced flyers, or those who just don't like the gesture based control, will be pleased to know the PowerEgg also comes with a traditional 2-handed controller.  Using the traditional controller will provide a more precise control experience.
PowerEgg Drone is Packed with Technology and Features
A built in video transmitter comes with PowerEgg, which Power Vision says can deliver the HD video in real time over long distances – up to approx 3.1 miles (5 km).  This is most likely only possible in wide open areas with very little physical or electromagnetic disruptions.  You wouldn't expect this type of range in any urban area.
Similar to the take off and hold mode, the PowerEgg drone also has a pause mode.  When selected, this mode will hold the position of the quad at a set altitude and wait for the user to give it another command.  Unlike most GPS quadcopters, this one can also hold its position indoors as well as outdoors.  It also comes in handy when a reliable GPS signal is not available.  An optical positioning system incorporates visual and ultrasonic sensors (like sonar) that scan the ground for patterns.  The PowerEgg then determines its position and moves more precisely (note that the surface must have a clear recognizable pattern and be illuminated enough for the sensors to detect it).
Integrated Safety…Just in Case
Maximum distance and safety radius modes are available too.  The maximum distance mode works sort of like a geofence, but the home position is tied to the controller instead of a spot on the Earth.  A distance limit, pre-set for each flight, keeps the drone from wandering too far from the operator .
Conversely to max distance mode, safety radius mode maintains a safe minimum distance from the flight controller/user.  A feature that will prove to be useful for beginner pilots – not only is it incredibly embarrassing to crash your own drone into yourself but it also could prove to be quite dangerous.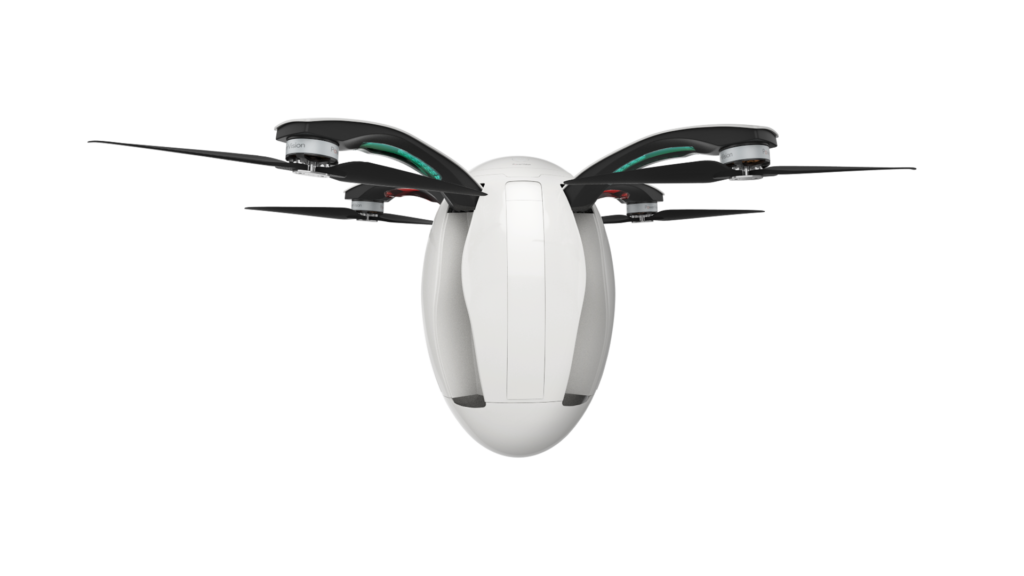 Auto Flight Modes
Flying your drone in manual mode is fun.  Sometimes though, you'll just want to easily frame your shot and have the PowerEgg manage the flight path automatically.  That's where the flight software's autonomous modes come in.   These modes keep the camera pointed toward the subject of the video, but each offer a different and unique perspective.
Selfie Mode – Take a selfie with your drone! The PowerEgg will takeoff, hover and point its camera at you.
Orbit Mode – Continuously orbit around a preset target at a predefined distance and speed, a mode ideal for filming a stationary scene from different angles.
Follow-Me Mode – Follow behind a target at a desired distance and speed.  A feature useful for filming a moving object.  Imagine yourself biking, jogging, canoeing, etc… with your own personal drone following and filming all of the action.
Waypoint Mode – The Egg will fly a pre-set path, using waypoints placed on a map, filming whatever you want it to along the way.
All of these modes are easily accessed via the PowerEgg mobile app, available for both iOS & Android.  The app also includes tutorials as well as social media sharing of captured video content.
The PowerEgg Drone Availability & Pricing
Power Vision is currently taking pre-orders for the PowerEgg drone.  Pricing is set at $1,288 USD and scheduled shipping will begin mid-October 2016.  The standard package includes the PowerEgg drone, Masetro remote control, traditional controller, base station, smart battery, and battery charger.  Customers ordering before September 30th, 2016 also get an official PowerEgg backpack (valued at $288), in addition to the standard package.
Check out Power Vision's website for more PowerEgg info and videos…www.powervision.me/en
All images and video courtesy of Power Vision Technology Group.
What do you think of the PowerEgg drone?  Cool innovation or silly looking quadcopter?  Please feel free to leave your comment below.