Sky Viper V2450 GPS Streaming Camera Drone Review
The Sky Viper GPS streaming drone is the newest edition to the Sky Viper lineup, and it's probably the best one yet.  This little quadcopter offers live video streaming and GPS positioning, all for under $200!.
But the best feature by far is the drone's firmware.  The V2450 is the first Sky Viper drone to utilize an Ardupilot based flight controller.
Features like GPS positioning, throw to launch and auto hover make this is a great drone for beginners or anyone looking for a GPS drone on the cheap.
In our in depth look at the V2450 GPS streaming drone, we'll go over the main features, the pros and cons should you decide to get one, some operating tips and what's included in the box.  Check out the details below.
Overview of the Sky Viper GPS Streaming Drone
This post may contain affiliate links.  See more details here.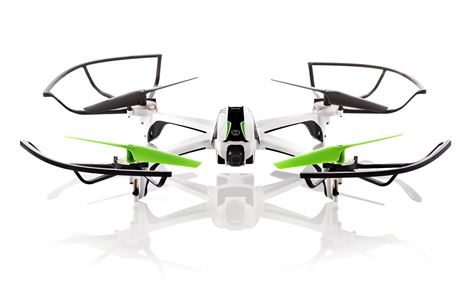 The V2450 is a small quadcopter…it weighs just over a quarter pound.  It's small enough to fly indoors but also just big enough to fly outdoors too.  The GPS positioning does wonders to combat  the breeze when flying such a light drone outside.
The motors on the V2450 are brushed, which is a small downside.  But that is typical of a drone this size.  Brushless motors are ideal but you'll only find them on bigger drones.
Sky Viper's GPS streaming drone is controlled with a handheld controller and the Sky Viper video streaming app.  The app runs on a connected smartphone and links to the drone via WiFi.
You can live stream video to your phone and record it there or on an installed micro-SD card.  You'll get a slightly higher frame rate if you choose the card option.
Buttons on the controller allow one press tricks and stunts and there's also a return to home button.
Flight time of the V2450 is not bad, given the 1S 1200 mAh battery, but less than most larger GPS camera drones.  Expect about 10 minutes if you're flying aggressively and around 12 minutes if flying more modestly.
Accurate GPS Positioning
This drone is equipped with a very good Ublox GPS module, which enables super accurate position data with a lot more satellite fixes than more expensive drones.
The GPS positioning on the V2450 allows modes like auto hover, position hold and return to home.  Just make sure you wait for a good GPS lock before relying on any of these modes.
At any time during your flight, if you let go of the sticks the V2450 will hover and hold its position.
Return to home is activated by a button on the controller.  And the location can be updated within the app, mid-flight, if you move and want your home position to move with you.
Click Here to Buy It at Amazon.com
Powerful and Capable Ardupilot Firmware
The flight controller on this Sky Viper streaming drone is the real star feature.
If you're not familiar with Ardupilot, it's an open source mulitrotor firmware used by many DIY-ers and hobbyists.  The firmware is the result of an ongoing collaboration of literally thousands of professional engineers and computer scientists.
It's also the same flight control software used by 3DR robotics  It's reliable and proven drone firmware, that allows total customization of all the flight control settings. You can even update the firmware via the app.
If you're a beginner, don't let the advanced firmware on the V2450 scare you off.  It's actually perfect for beginners, right out of the box.  It's great software to learn on, then dive deeper into the settings and customization as your skills improve.
As someone who has learned on Adrupilot and has been using it for many years, I can speak to this first hand.  I wish this firmware was on all my drones.
When connected to WiFi, the V2450 drone can even host a web interface where you can change all of the settings.  You can change the GPS settings, flight characteristics and camera settings.  You can even map different flight modes to different action buttons on the controller.  Check out the video below from SUAS News to see the WiFi interface in action.
There is even a ground control app you can use with your smartphone to interface with the drone as well.  Qground control lets you change settings and will even show you a map of your position.  Live flight data is also displayed with some virtual gauges.
V2450 GPS Camera Overview
The camera on Sky Viper's GPS drone records video in 720p, either to a micro-SD card or saved from the stream to your phone.  You'll get a higher frame rate of 30 fps when recording to the card, compared to only 20 fps when done by your phone.
You probably noticed that the camera on V2450 is integrated into the body.  That means there's no gibmal to stabilize the video, which is one of the only downsides to this drone.
But honestly, for the price you really can't complain.  You would pay at least 2-3 times the price of the V2450 to get a drone with GPS and gimbal stabilization.  Plus, the lack of stabilization will give you a better FPV experience.
Flying the V2450 GPS Drone
The Sky Viper V2450 is extremely easy to control fly right out of the box.  Just make sure to follow the proper set up in the manual.
You really want to make sure the compass and accelerometer calibrations are done properly.  If not done correctly, the flight will probably be unstable and erratic.
This drone will also learn and refine its calibration over time.  Each smooth and stable flight longer than 20 seconds, will allow the V2450 to learn and tweak its calibration values.  Just another great feature of the Ardupilot firmware.
It's also important to be patient and wait for a good GPS signal.  But honestly, this drone will get a fix on many satellites pretty quickly compared to other GPS drones.
When switching to indoor mode, press the button on the controller.  The light will change from green to red and the drone will be ready for indoor flight.
There is no positioning while in indoor mode.  But there is a cool feature that lets you maintain a specific height while flying.  It helps you not to crash into the ceiling.
Pros and Cons
There are a few downsides to the V2450, but given the price and maintaining reasonable expectations, this drone is definitely worth it.  Check out the pros & cons listed below.
Pros
Awesome value for the price
Ardupilot flight control firmware
Very easy to fly
GPS & FPV
Ability to change settings
Firmware is upgradeable
Altitude hold mode during indoor flight
Failsafes for low battery, and lost controller signal (indoors and out)
Cons
No gimbal, video not stablized
The range is small for a GPS drone, around 500 ft
Brushed motors won't last as long as brushless ones
Flight time is on the lower side
All in all, the Sky Viper V2450 GPS streaming drone is a great little quadcopter.  It's super easy to fly, which makes it great for beginners and the customization options will appeal to more advanced users as well.
The combination of GPS positioning and Ardupilot firmware is really what makes this drone stand out from similar ones in the same size class.
Whether you're looking for your first drone or another fun little quad to add to your collection, the V2450 GPS from Sky Viper is an excellent choice!
What's In the Box
V2450 streaming camera drone
Controller
Phone mount holder
Battery
USB charger
1 set of replacement props
Prop guards
2 pro-style thumb sticks
2 game style thumb sticks
Screwdriver and extra screws
Instruction manual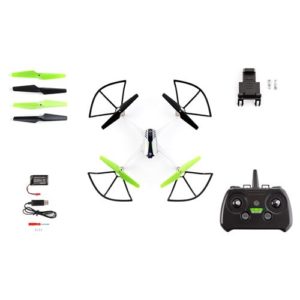 V2450 GPS Specs
 
Weight

188 grams

Range

~ 150 meters

Flight Time

10-12 min

Battery

1200 mAh 1S LiPo

Camera Resolution

720p

Positioning

GPS
As requested in the comments, here are links to purchase a replacement battery or if you want a battery upgrade for the Sky Viper V2450 GPS drone…