UPS Wants to Use Its Vehicles as Motherships For Residential Drone Delivery
UPS tests residential drone delivery by launching from the roof of a delivery truck
Governments and drone companies are still working out the details and rules for residential drone delivery.  But that hasn't stopped companies from testing out new ways to get their products to customers, utilizing this new technology.
Delivery companies want to be ready.  They're testing these new drone delivery methods to prepare for when they're given the green light. (like the Orangleaf company testing drone delivery of frozen yogurt)
UPS is the latest company to showcase a new residential delivery method, via drone.  Their February 20, 2017 test in Tampa, Florida.
The parcel company tested a drone delivery by launching from the top of a delivery truck.
This specific test is interesting because after the drone was launched, the truck continued on to make another delivery.
Once the drone autonomously delivered the package it returned to the launch pad on the roof of the truck, which it met at the new location.
(For a look at some cool drones with autonomous capability, check out our list of top GPS camera drones.)
Specially Developed Drone and Delivery Truck
UPS used a drone called the HorseFly UAV delivery system, developed by Workhorse.
It's a high performance quadcopter that works together with Workhorse's specially developed electric hybrid delivery trucks.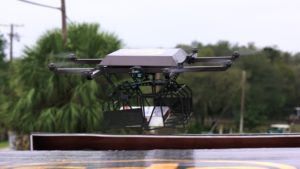 The truck has a special retractable roof that slides back to unveil a drone launch pad.  The launch pad also contains a docking portal for the drone.
Recharging is done via the docking portal, when the drone returns to the truck.
Attached to the bottom of the done is a cargo cage.  When docked, the cargo cage is accessible from inside the delivery truck.  It hangs down into the truck via an access hole in the roof.
This allows the delivery driver to load a package into the drone's cargo cage.  The driver then presses a button on a touchscreen in the cab of the truck, which sends the drone on its autonomous delivery route.
See all this in action by watching the video below.
Workhorse pre-programmed the drone's delivery route for this test, to show proof of concept.
In the future, routes would be determined by UPS proprietary routing software, ORION.
ORION stands for On Road Integrated Optimization and Navigation.  Its goal is to reduce miles per driver per day.  As a result of this reduction, UPS could save tens of millions per year.
Big Benefit Possible from Rural Delivery Routes
For UPS, rural deliveries present the greatest benefit from an efficiency boost.
These deliveries take a lot more time and cost more due to the distance between deliveries.
This test aims to make the process more efficient by letting the drone make a delivery while the truck continues along the route to make the next one.
Mark Wallace, UPS senior VP of global engineering and sustainability talks about a delivery route with stops separated by a few miles.
He thinks reducing one of those stops by sending the drone to make the delivery is worth it to reduce the miles driven.
He had this to say about the test.
"This test is different than anything we've done with drones so far. It has implications for future deliveries, especially in rural locations where our package cars often have to travel miles to make a single delivery."
Relationship Between UPS and Workhorse is Not New
Workhorse is an Ohio based battery electric vehicle and drone development company.  They currently have a contract with UPS to produce their hybrid electric delivery trucks.
Workhorse also built the specialized delivery truck used in this test.  Since they also built the drone used for the delivery, they can insure the systems work together seamlessly.
UPS, a Company Embracing Drone Technology
UPS has been testing automated drone delivery for the last few years.
Last year, they staged a mock urgent delivery of medicine to an island 3 miles off the coast of Massachusetts.
They've also partnered with 3rd part organizations to make drone deliveries in Rwanda.  The drones deliver blood and vaccines to remote areas where traditional delivery would take much longer.
In UPS warehouses, they're also using drones to monitor inventory on very high storage shelves.
Last year, the FAA opened up rules to allow for some commercial drone operations.  This has lead to an explosion of ideas, where this new technology can be used.
UPS is one of the 35 stakeholders that serve on the FAA's drone advisory committee.
The committee's goal is to collaborate with the FAA to solve issues and work safely to integrate drone operations into our national airspace.
It seems that every day there is a new story about an advancement in the use of drones for delivery and other commercial operations.
This latest residential drone delivery test, by UPS, highlights yet another benefit made available by this new and exciting technology.
If you liked this post, please help us out and share!